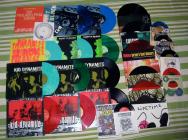 You're the lucky reader of the 26th edition of the Punknews.org Vinyl File. This column aims to keep you informed with upcoming releases as well as spotlighting interesting releases, your favorite bands' own collections and labels with an history of vinyl releases worth talking about. As always, Vinyl File is brought to you by Ben Conoley.
This week Vinyl File takes a tour through Dan Yemin's vinyl history, including detailed discographies of Lifetime, Kid Dynamite, Paint it Black and Armalite. We've also got news of upcoming vinyl releases from a whole bunch of bands you'll want to know about.
THE VINYL FILE SPOTLIGHT
With all the buzz surrounding Paint it Black's upcoming album The New Lexicon, Vinyl Collective thought it would be appropriate to take a look back at the band's vinyl discography. While we were at it, we thought, "Hey, why not throw in everything Dan Yemin related?" With no good reason not to do it, here we go. Special thanks to Christopher Michon, Adam Bender and Frank Müllenhoff for their collection photos.
Lifetime
Lifetime's first release was a self-titled 7" on New Age Records back in 1991. It contained four songs including 'Dwell,' 'Find,' Souvenir' and 'Gone.' The album was only pressed on black vinyl. The songs of the 7" were later featured in Jade Tree's Somewhere in the Swamps of Jersey release.
Break Even Point Records released the Ghost 12" in 1992. The album features sox songs and had only one pressing on black vinyl limited to 1,000. Available only in Europe, it was followed up by a return to New Age Records with Background in 1993 which featured the same songs as Ghost and was featured in a remixed and remastered form on the second disc of Somewhere in the Swamps of Jersey.
Glue Records released the band's second 7",