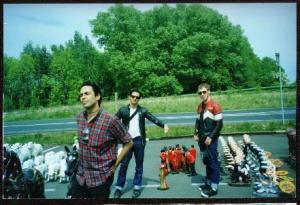 Albuquerque legends Scared Of Chaka will reunite on stage in late March in Virginia City, NV to celebrate the 15th anniversary of Sticker Guy! Custom Vinyl Stickers, a venture that grew into 702 Records and Slovenly Recordings. Sticker Guy Pete confirmed that the show will see the David Yanul Hernandez, Dameon Waggoner and Ron Skrasek lineup of Scared Of Chaka together for the first time in a decade, joined by a reunion of the Gain along with sets from the Spits, the Bananas and the Rippers. A venue has not yet been announced.
Sticker Guy Pete here, I'm organizing this to celebrate 15 sticky years!
HERE IS THE OFFICIAL SKINNY AS OF TODAY:

There are no tickets yet, but there will be. Capacity of the venue is 250. We will announce the venue soon. The lineup shown above is who is CONFIRMED -- there are several more bands & discjocks in the works! If you would like to attend, my recommendation at this point is to arrange your travel. Be in the Reno area by early Friday evening, March 28th, and stay til Sunday the 30th. I recommend *not* reserving accomodation yet -- Friday will not be *in* Reno -- but only 45 minutes away. We're working on Saturday -- it will probably be in Reno (or Sparks). So most likely, you'll be spending one night in one town, another in Reno or Sparks. At any rate, I would like for everyone to stay in the best places possible, so hold off and wait for my recommendations as to where! Okay?

Again: if you already know you want to attend, mark your calendars, get the time off of work, and arrange your travel now! Sit tight for accomodation and ticket info. Check www.stickerguy.com for details & updates, they will be posted soon!

thanks and I hope to see you in March.