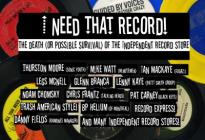 I Need That Record, a new documentary aims to look at the problems facing independent record stores throughout North America. The film focuses on why over 3000 independent record stores have closed across the U.S. in the past decade. The film uses found footage, expository voice over, talking head interviews with artists, musicians, retail owners, and animation to tell the story.
The film also features commentary from many notable figures including Thurston Moore of Sonic Youth/ Ecstatic Peace! Label, Ian Mackaye of Dischord Records Fugazi/Minor Threat/Teen Idles, Chris Frantz of the Talking Heads, Pat Carney of the Black Keys, Mike Watt of the Minutemen/reunited Stooges, Patterson Hood of The Drive By Truckers, Noam Chomsky, guitar composer Glenn Branca, punk author Legs McNeil, rock photographer Bob Gruen, Bryan Poole guitarist of Of Montreal, Numero Records, Rhino Records, Bloodshot Records, United Record Press (the largest vinyl plant in the U.S.),
A sample of the film documenting Trash American Style, a Danbury, CT punk record store which has run for 17 years is below.