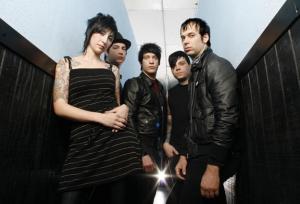 Today for your streaming pleasure, we've got the long–awaited new album from The A.K.A.s. Titled Everybody Make Some Noise!, the album is the first full length from the band since White Doves & Smoking Guns was released by Fueled By Ramen in 2003.
Our reviewer had this to say in his four–star review:

The band was formed with the intention of combining Refused with the MC5, which was much more obvious on their last record, with the hardcore–influenced songs "Spectacle City" and "Shout Out Loud." On their latest offering, the band moves toward a more traditional punk–influenced rock 'n' roll sound ,which they execute nearly as masterfully as their faster debut.

This is definitely an album to check out, no matter what you listen to. This is without a doubt is one of my favorite albums of the year, and I highly recommend it to anyone looking for an energetic and fun band
You can check out the entire album on their Punknews.org Profile.