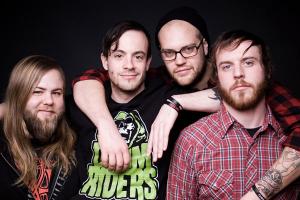 After the release of 2006's Birthing the Giant, Toronto's Cancer Bats spent more than their fair share of time on the road. Between their cross-continental exploits, the band found time to record their sophomore effort, Hail Destroyer. Released in April, the new album is an explosive metal-inspired post-hardcore collection of songs. Cancer Bats' guitarist Scott Middleton took some time to discuss the making of Hail Destroyer and where, other than dirty floors of Midwest America, Cancer Bats find themselves today.
Can you talk about what happened to the band in between the recording of Birthing the Giant and Hail Destroyer?
Well. Basically we played over 300 shows since Birthing the Giant came out…and it was amazing. We got to tour around the world and quit our jobs and just do something we actually love everyday.
In the middle of our us tour with Alexisonfire in October 2006 our bassist Andrew let us know he was quitting the band to focus on his design company Doublenaut. Basically we had to scramble to get someone to fill in and got Bailey who used to be in Figure Four with Mike. We did some great tours in 2007, went to Europe many times and saw things really pick up for us. It was rad. We recorded a Split [7 inch] with This is Hell.
During the writing process for Hail Destroyer we realized things weren't working with Bailey so we let him go to focus writing the record as a three-piece with Liam, Mike and myself. We holed ourselves up in our jam space for about two months writing every day for about 8-12 hours. When we finally had something we brought in Eric Ratz, Kenny Luong and Greg Below to work on pre-production. Sometime after that we got our old friend Jaye Schwarzer to play bass with us and we went to Europe with Comeback Kid and came home and recorded Hail Destroyer as a three piece and I played bass.
Would you say it is a fair observation to say that Birthing the Giant was a collection of songs written over a few years, whereas Hail Destroyer is a more concentrated effort? Do you hear that in the songs?
Oh, 100%. I mean, "Shillelagh" was, like, the third song we ever wrote. We just went in with all the songs we had at that point basically and picked the 11 that sucked the least. I actually find it hard to listen to that record because I just hear some songs as "a band trying to find their sound." Whereas I think with Hail Destroyer we had a much better idea of how we wanted to approach writing. We wanted straight to the point no bullshit bangers. We didn't wanna write songs with 3 bridges and pretentious intros. We wanted to focus on riffs, dynamics and vibe.
So would you say you've found your sound now, at least for the time being? How would you describe the spirit of Hail Destroyer.
I think we're certainly getting there. We're always going to try new things. But at the end of the day its still going to be balls out guitar heavy rock. The spirit of this record is more a snapshot of us as a band having toured for two years straight. What we've experienced and how that's affected our lives. Birthing the Giant focused more on the start of the band and the ethos we live by, the city we live in and the friends we love. With Hail Destroyer it's a band being thrown to the wolves so to speak. Being away from home, being broke, eating garbage, breaking down mentally and van-wise. Not being able to hold onto important relationships. But at the end of it all kind of challenging ourselves and the lives we lead to keep bringing it on. So even though it is certainly a darker record, we're still positive people and embrace the lives we lead.
You've become an increasingly popular band since the release of Birthing the Giant. What kinds of expectations have you put on yourselves this time around?
We're just going to tour as hard as possible. I just hope more people get to hear this record, because I find a lot of people assume we have a different sound than we do. I think maybe some of that has to do with us touring with a lot of bands that don't sound like us. So people see that and assume we're a screamo band or not a heavy band. So maybe it would be cool to do some straight up metal tours or rock tours this time out, we'll see.
How did it come about getting Tim from Rise Against to sing vocals on "Harem of Scorpions?"
We toured with Rise Against twice last year and we got along with those guys super well. They're one of the best live punk bands I've seen in a long time and probably the best people I could think of, just awesome. So anyway, I mentioned it to Tim on our US tour, asked if he would be into it. I had "Harem…" in mind because it was a more melodic punk song, and I just really love his voice. So when it was time we sent him a copy of the song. He loved it and him and Liam went over lyrics. I think it came out great.
I imagine that a highlight of the record for you. What other moments on the record stand out?
Well, it's all great, really. I love Ben from Billy Talent's vocals. I've always wanted to hear him scream on something heavy and Wade MacNeil from Alexisonfire's vocals are perfect in "Deathsmarch." I think it just worked out all around.
How much of your growth in popularity do you attribute to touring? Can people expect you to be on the road as much as you have been in the past?
Most of it? I think that's the most important part of being a band. If you don't tour, what's the fucking point? There's still nothing better than seeing a band you love tear it up on stage - and it happens to be our favorite thing as well. So we're down to play just about anywhere people will have us. We intend to be busier than we ever have been and I really believe we turn more heads from kids seeing us live that any other way. Actually that was a point on Hail Destroyer, to capture more of our live sound than Birthing the Giant did.