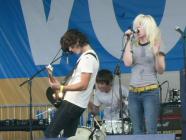 After Universal removed three songs from the band's new album Get Awkward due to violent lyrics, XL Recordings will get to play hero by releasing the offending Be Your Own Pet in the form of a new digital single and double-7-inch titled Get Damaged on June 03, 2008.
The three tracks "Blow Yr Mind", "Black Hole", and "Becky" were on the original promos released by the label and are widely available in the UK and Europe. Lyrics in question include "We'll wait with knives after class!" and "Eating pizza is really great / So is destroying everything you hate." There are also some songs about zombies which may be offensive to zombies.
In any case, you can check out the artwork here.