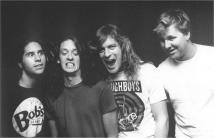 80s and 90s-era pop-punk outfit Big Drill Car have announced an apparently one-off reunion set to take place at Fitzgerald's Pub in Huntington Beach, CA on August 13th.
Bassist Bob Thomson made the announcement:

Bob from BDC here, and I am extremely happy to tell you, if you don't already know, we will be playing a show at Fitzgerald's in Huntington Beach on August the 13th. this is a warm up show for a couple other things to follow, this show being the most intimate in my opinion. Can't tell how stoked I am that this is actually happening, in fact we all seem to be pretty stoked to rock again.
As the presence of Thomson indicates, the show will feature the band's original 1987-1992 lineup. Tickets can be purchased here.
Big Drill Car released an EP, Small Block, in 1988 before being signed to Cruz Records (owned by former Black Flag guitarist Greg Ginn) and releasing two studio albums. The band eventually parted ways with that label and signed to Headhunter Records, who released No Worse for the Wear, the band's final album.
Big Drill Car broke up in 1995