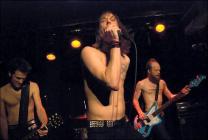 Since the breakup of Refused in 1998, frequent collaborators Dennis Lyxzén and David Sandström have worked on a number of projects like The (International) Noise Conspiracy, The Lost Patrol and TEXT though the duo have not formed a hardcore band since Refused split up.
Dennis and David have now unveiled their first hardcore project in a decade, dubbed AC4, the band has booked two shows in their native Sweden as well as posted a short live video to provide a taste of the band which you can find on their myspace page.
Refused has proven to be one of the most influential bands in modern hardcore, with their final 1998 album The Shape of Punk to Come consistently topping critical lists.