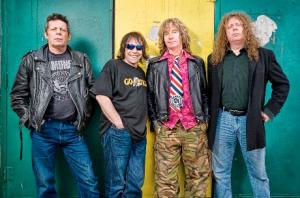 Canadian punk pioneers Teenage Head are set to hit the road in Ontario later this month. The Hamilton natives will appear at a number of festival dates, including an NXNE show, the S.C.E.N.E. festival in St. Catharines and the Fort Erie Friendship Festival.
The band recently released Teenage Head with Marky Ramone, which is exactly what the title says. For the project the band re-recorded a set of their classics with the Ramones drummer. The band spoke with Exclaim about the album and the future:

We've re-released our debut album and now we've released this, and those were both things we really wanted to do. Now it's time to move on. We're actually going to go both ways: we've got recordings from before the first album that no one's ever heard before and we've already started writing for a new record. I mean, an album of completely new songs? That would really freak everyone out.
| DATE | CITY | VENUE |
| --- | --- | --- |
| 6/12 | Toronto ON | Yonge-Dundas Square (NXNE, 9 PM, free outdoor show) |
| 6/20 | East York ON | Rock N Roll Heaven |
| 6/21 | Burlington ON | Lezley's Chaps |
| 6/27 | Kirkland Lake ON | Kirkland Lake Homecoming Festival |
| 6/28 | Fort Erie ON | Fort Erie Friendship Festival |
| 6/29 | St. Catharines ON | S.C.E.N.E. Festival |
| 8/02 | Hamilton ON | Y108 Rock N Roll Picnic at Gage Park |