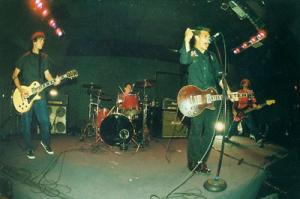 Fans of Dischord acts are having a good week, as on the heels of the recently announced Shudder to Think reunion comes a reunion from Bluetip.
The band has confirmed that they will be hitting venues in New York City, Spain and England as well as recording a new album in August. The band will be the "Dischord No. 101" touring edition which was Jason Farrell, Jake Kump, Dave Stern and Jason's bandmate (and Retisonic drummer) Joe Gorelick.
The band was formed in 1995 by ex-members of Swiz, and released four albums, an EP, and a number of singles before splitting up in January 2002. You can find some music on this myspace page.