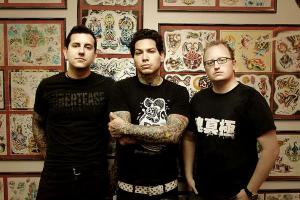 Pop-punk veterans MxPx have been keeping busy touring in support of their latest album, Secret Weapon. Back in the Spring the band played Bamboozle Left where our reporter Ronnie Raffaniello caught up with drummer Yuri Ruley.
What are your favorite songs to play live and do they differ from your favorite album tracks?
Yuri Ruley: Lets see, I love doing 'Tomorrow's Another Day'--that's my favorite because have a part that we made up, it's kind of like a crowd interaction part. It's just like a real fast song, it feels good to play, and people love it. Yeah, and that's also one of my favorite album tracks.
Your seventh album, Panic, was recorded with Gavin Mackillop. What did you learn while working with him and what was the best thing about working with him?
YR: Actually, I learned a lot from him personally. As a musician, I learned to relax. Any time I would make a record prior to working with Gavin I would always get really uptight because everything had to be absolutely perfect and I'd get all stressed out. With him, it's like, it doesn't matter, have fun. It comes across better, it sounds better; so what if you mess up, you'll do it again. So, I took that apart and was able to relax a little bit and it made all the difference in the world for me. I feel that was probably the best piece of advice I've ever gotten as a drummer. Other than that, I thought he had great sound and he's a good dude. He's very versatile, he's done a lot of different music. And he's Scottish!
Why did you decide on Panic as the album title?
YR: The time we started making that record a lot of stuff was going on; the war in Iraq, terrorist attacks, stuff like that. And also there's the whole idea of panic and the American media feeding into it, getting people more freaked out. We thought that it's an unfortunate thing so we wanted to bring attention to that whole idea.
What's your favorite thing about being on tour?
YR: Well, on occasion, a new experience will happen or we'll go to a new city that's interesting. We've been spreading out a lot more internationally--we've been to Indonesia, Russia, and so that's kind of fun. After you've been touring for 13 years not a whole lot of things blow you away [Laughs]. But getting to go to new places, it kind of feels like new again.
What is a place you haven't been that you'd like to tour?
YR: I'd like to go to Iceland. It's way the heck out there, you know. Oh yeah, India would be awesome, and China.
How are the fans in other countries?
YR: They're amazing. Especially countries that bands dont go to, like when we go to south america all the shows are huge. Bands dont go there very much. Indonesia we played in January and they loved it, Russia in February. It's such a treat to them. Here we get music like 100 bands a day, so it's kind of like not that big of a deal--the fluster has kind of worn away, but there it's like brand new. It's great, the best part of my life is having people excited and connected.
What advice would you give to unsigned bands about the music industry?
YR: Definitely be careful. Don't rush into anything because a lot of times people see you as a way to make them money. So, they're going to lure you in anyway they can and make money off of you. It'd be nice if the band made the most money and everyone else made the appropriate amount, but that's not the case. So, I don't know, I think do as much of it as you can yourself and do research about labels and the people you're interacting with like managers and agents. Take it easy, you know. Chill out and be careful with what you do.