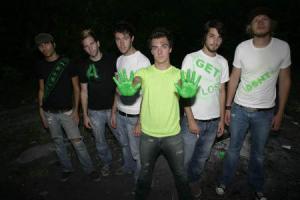 After four years as a band, Ottawa's the Fully Down has announced their break-up.
The band released this statement on MySpace:

As some of you may have heard, we've decided to call it a day. It was not an easy decision for any of us, but it got to the point where people began to become interested in other things, and we couldn't put enough into the band anymore. As people began to leave to pursue other projects, it became harder and harder to find replacements and still believe that we were the same band. In no way is there any bad blood between any us, and I'm sure some of will work together again on some new musical endeavors.
The four years that we were involved in TFD were not always easy, but definitely left us with some incredible memories. From our first east coast Canadian tours, to our epic US tours, to our time in Japan, we've shared the stage with some amazing bands, and met some of the nicest people this earth has to offer. For the sake of fear of leaving anybody out, were going to refrain from individual thank yous in this note. But to all the bands we played with (or at least the rad ones), all the people that offered us a place to stay on the road, everyone that picked up some merch so we could eat, everyone that came to one of our shows or listened to our records, and especially all of our close friends and families that supported us as we attempted this crazy dream…. THANK YOU. We couldn't have gotten half as far as we did without your help.

Moving forward. While we are all sad that this had to end, we're all excited about the future. Alex is going solo, Dan's playing with a couple of bands, and George is doing live sound on tour with Protest the Hero. I'll post some links at the end of the message. Bricks, Kris, and Justin, are always up to something crazy, so check back on our myspace from time to time, and we'll keep you up to date on what people are up to. We're also going to post some unreleased tracks, and some songs from Don't Get Lost that we never put on our myspace. So enjoy!

The good news: We got one final show coming up… and it's gonna be a serious party. On August 23rd The Fully Down will play its final performance at Zaphod's in Ottawa. Were going to do a lot of songs from both No Fate… and Don't Get Lost in a Movement, as well as a couple songs we wrote with Justin. Our original singer Gab is gonna do a bunch of songs with us too. Brights will be opening the show (check them out if you haven't cause they're rad). We're really sorry to all our friends/fans that don't live in Ottawa that wanted to see us… but we would definitely be stoked if anybody took a road trip to Ottawa for the 23rd.

We still check the myspace and would love to hear from you guys. Thanks for everything.

Love
Dan
George
Kris
Alex
Bricks
Justin