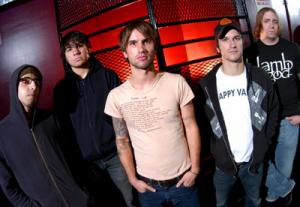 While Every Time I Die roughs the summer heat of this Year's Warped Tour, Punknews interviewer Jason Gardner did the same and tracked down the band's vocalist, Keith Buckley, to see how the tour was going and talk about Every Time I Die's latest album, The Big Dirty.
How's everything going for you?
Wonderful.
How was the crowd today?
I think it was the best of the tour. Best of Warped Tour so far.
Seriously?
Yup. Atlanta was the best up until today, I think.
How about compared to last time you guys did Warped?
Much better.
Yeah, it was sort of lame last time.
They were a little lame, you can't blame 'em, it gets hot out here. Oh, we played super late in the day last time, I remember that.
Closed out the Hurley stage, I believe.
Yeah, we did. I didn't expect much out of them anyways.
Who you guys been hanging with?
Norma Jean a lot. Say Anything guys a lot. And The Bronx, those are our dudes. Love 'em.
Pretty crazy set today though, got hit in the head with a full water bottle, but what can you expect.
Shit happens.
You guys traveling in a bus, right? You sharing with anyone.
Nope, just one broken ass bus to ourselves, the air-conditioning never works.
That's nice. Especially in this weather.
Yeah, perfect timing.
So the newer record.
Nothing yet.
I mean The Big Dirty.
Oh, yeah.
You guys pleased with the reception of it?
Definitely. We hardly play any songs off of Gutter Phenomenon, besides "The New Black" and "Bored Stiff".
I've noticed you don't play much of anything off of that record.
The other songs on that CD aren't even fun to play live, so we usually rotate those in.
The last time I talked to Andy [Williams, guitar], he said you guys were under a lot of pressure during the recording of that CD.
Yes.
And since you weren't this time, do you feel the results were better?
It came out exactly the way we wanted it to.
Are you guys planning on doing another music video for this album?
Um. That's a good question, we were actually supposed to do one before the Warped Tour, but I think we're going to.
Do you know what song you're going to do yet?
My vote, I would like to do one for "Rendez-Voodoo". But I'm sure the other dudes will want to do something a little heavier. We'll see. Play it by ear.
Since it just came out a few days ago, can you talk a little bit about the whole leaving Ferret thing?
I don't know why it just surfaced. It was like common knowledge that that was our last record for Ferret. I mean that's it. It's not really big news. It became news when our album came out. We're talking to some labels. No majors.
If you were talking to majors and you did sign to one, do you think there would be any backlash?
Oh, I'm sure. It happens with everybody. Nobody really understands how it works until you're in the game, you know. Price of gas is going through the fucking roof, you need some money here and there.
Yeah, I saw gas for $3.99 today, but most of the gas stations around here stay the same price until Friday afternoon, then go up 20 cents for a couple days.
How does that work?
That's Detroit, I guess. Even though you guys are done with Ferret and you had a good relationship with them, are you guys ready to move on?
Yeah. 10 years. I think we're ready to leave the nest.
Overall, you're happy with how they've treated you.
Yeah, definitely.
They've signed a lot of bands now.
They've signed a lot of bands. I'm curious to see how they will take care of everybody without wearing themselves thin.
So nothing as far as writing or new music until…
Not at least until this tour is done.
What do you guys have after this?
A quick East Coast run in November. Australia and Japan after that.
Anything else you want to add?
No man, I think we're good.
No stories, anecdotes, puns, riddles, anything like that?
Not really, I'm actually a little off today. I was up drinking with Norma Jean until like five this morning.
Yeah, plus you gotta go to Canada tonight and there's construction from here to Canada.
Yeah, I saw that. It looks terrible.