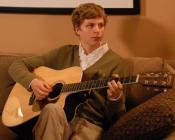 Popular indie act Vampire Weekend have signed on to collaborate with composer Mark Mothersbaugh of Devo on the soundtrack to Nick & Norah's Infinite Playlist. The film stars Michael Cera (Arrested Development, Superbad) and Kat Dennings (The 40-Year-Old Virgin, Charlie Bartlett.)
According to a Pitchfork report, the Motherbaugh recorded the exclusive Vampire Weekend track and also supervised the entire soundtrack. The soundtrack is expected at retail on September 30th.
The disc will also include tracks by the Dead 60s, Takka Takka, Band of Horses and more.