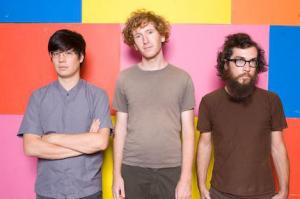 The first batch of 2008 CMJ Music Marathon bands has been announced. More than 154 acts including 3OH!3, Anthony Green, Broken Social Scene, Jay Reatard, Minus the Bear, Parts & Labor, Broken Social Scene, Deerhoof and AIDS Wolf are in the first batch of confirmed bands.
The event takes place from October 21st to 25th in New York City at multiple venues.
3OH!3
A Place to Bury Strangers
Aa
Adept Aggrolites
AIDS Wolf Albertans
Amazing Baby Ambulance Ltd
An Albatross Ane Brun
Anna Ternheim Annuals
Anthony Green Arbouretum
Ariel Pink and Geneva Jacuzzi
Bailiff
Beach House
Benji Cossa
Black Hollies
Black Taxi
BM Linx
Bonne Aparte
Broken Social Scene
Brighton
MA
Canasta
Canon Logic
Caroline Weeks
Catcall
Charles Burst
Coathangers
Cool Kids
Cotton Jones
Crystal Castles
Cut Off Your Hands
Deanna Devore
Death Vessel
Deerhoof
Del McCoury Band
Delta Spirit
Die! Die! Die!
Dive Index
DMBQ
Donavon Frankenreiter
Doug Paisley
Dungen
Eagle Seagull
Envy On The Coast
Experimental Dental School
Fiasco
Flying
Franki Chan
Fujiya & Miyagi
Gang Gang Dance
Gliss
Growing
HeartsRevolution
Hecuba
Hey Rosetta
Higgins
High Places
Hollywood Holt
Hospital Bombers
IRAN
James Jackson Toth
Japanese Motors
Jay Reatard
Joe Pug
Juliana Hatfield
Jupiter One
Karkwa
King Khan & The BBQ Show
Lacona
Lee "Scratch" Perry
Let's Go To War
Life and Times
Looker
Lykke Li
Magnetic Morning
Margot and the Nuclear So-and-Sos
Marissa Nadler
Marnie Stern
Matt Duke
Matthew Dear
Micachu
Mike Bones
Miles Benjamin Anthony Robinson
Minus the Bear
Mirah
Monotonix
mother mother
Natalie Walker
Needers & Givers
No Kids
Nouvellas
Oakley Hall
Octopus Project
Other Lives
Oxford Collapse
Parts and Labor
Peephole
Pegasuses-XL
Pit er Pat
Plastic Little
Pontiak
Portastatic
Princeton
Psychic Ills
Rainbow Arabia
Real Ones
Rebecca Pidgeon
Restaurant
Rio en Medio
Rocketship Park
Roisin Murphy
Ruby Suns
Rumspringa
Said the Whale
Savoir Adore
School of Seven Bells
Screens
Shad
Shellshag
Sian Alice Group
Sky Cries Mary
Sole and Skyrider Band
sPADH
Takka Takka
Terry Lynn
The Apes
The Broken West
The Dears
The Homosexuals
The Mae Shi
The Moin Non Plus
The Music Tapes
The Muslims
The New Number Two
The Octagon
The Psychic Paramount
The Rosebuds
The Takeover UK
The Two Man Gentlemen Band
The Unsacred Hearts
The Virgins
Theresa Andersson
They Might Be Giants
TK Webb
Tunnels To Holland
Two Spot Gobi
Violens
Vivian Girls
Whomadewho
Wild Light
Will Hoge
Woods
Wye Oak
Yip Yip
Yo Majesty