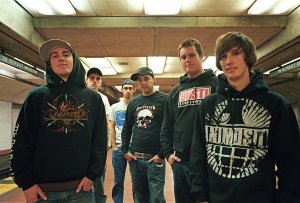 While touring on this summer's Warped Tour, Set Your Goals took the time to talk to Punknews not once, but twice. Tonight we're pleased to bring you both interviews.
After wrapping up Warped Tour, the band promptly headed to the UK where they're currently on tour.
In the first of our two interviews with the members of Set Your Goals, Jason Gardner talked with Junior (aka Audelio Flores) from Set Your Goals. The second interview features a discussion between Ryan Raffin and Set Your Goals' drummer Mike Ambrose.
So for the record, can you state your name and what you do in the band.
My name is Junior, and I play guitar in Set Your Goals.
How's the tour been so far?
Warped has been really good, we've been able to hang out with a lot of our friends that we've toured the past year with, like A Cursive Memory who just hopped on, the Four Year Strong guys are awesome dudes, A Day To Remember, and we've met a bunch of new bands that we've becoming friends with. Just hanging out, enjoying our time and being able to play shows every day.
This is the second time you guys have done Warped, right?
Last year, we did the first two and a half weeks, and then this is the first year we're doing the whole thing.
Has it been different to know your in this for the long haul this time around?
Even two years before, when I used to work for Smartpunk, we were trying really hard to get on Warped, but we couldn't get on it. Last year, Bob Becker was like 'Hey, I'm able to give you guys two weeks'. Everyone on Warped, from what we know, liked us a lot and backed us, and this year we got invited to do the whole thing by Kevin Lyman, which was even better because now we're a part of the Warped Tour, not just a band that is on for a couple days then you go home.
Is it sort of like a dream come true to do the whole tour after you guys did a short stint last year?
Yeah, it's fun. You know, even when I was young I would come out to Warped Tour to watch bands, but I never thought I would end up playing it. I used to be in a band that did Warped in '04 and we did it in a van, it was fun but it was the hardest thing ever. Then last year we did it in our van, it was rough. This year, it's our first time doing all of Warped and our first time in a tour bus.
You guys sharing a bus with anyone?
We have two buses, one is just Set Your Goals. We're renting out to Brian from Hooligan Skate and Mark Beemer from Shirts For A Cure.
Is it easier this time around?
Last year, it was easy because we had a tour manager for the first time. He's our boy, his name is Craig Monahan. Awesome dude. He did it in '06, so he knew everything to do, like how to work, check in, make sure everything was on time. It was rough though because we had to drive ourselves. This year, we have a name out for ourselves and we don't have to struggle. Plus we each have our own bed that we can chill in.
How do you feel about the lineup, having said you guys have a lot of friends on the tour?
It's very, very diverse. We met the Cobra Starship dudes when we did Give It A Name this year, and Gabe is awesome, as well as everyone else in that band. But yeah, it's very diverse, there's hip-hop with Gym Class Heroes, Cobra Starship that's just fun rock/dance music, As I Lay Dying, Every Time I Die, Street Dogs. A really good band on Side One Dummy that I like Bedouin Soundclash. There's a lot of diverse bands and it is good to interact. Set Your Goals has always been a band that wants to tour with different styles of bands and music.
You guys just had the re-release of Mutiny! not too long ago, can you talk a little bit about that and what it means to you guys?
The reason it got re-released is because the original pressing sold out, I guess. Every label does it if you pay attention and every band that gets big or getting known will have a re-release with like live footage from tour or unreleased songs. So we didn't have any new material, so we just gave them our old demos and the music video. It's pretty much just to remarket the record.
Along the same lines, I know you've been getting a lot of questions about the DVD material. Is there any new news on that?
There is going to be a DVD, we're waiting to work out the kinks. We had copyrighted material on the last one, so we couldn't do it. We're hoping that gets solved soon, it's been tough for us. But we'll be releasing a DVD, and hopefully it will be the Work In Progress DVD, and if not a live DVD.
Has it been disheartening to try and put out the DVD with all the obstacles you've been incurring?
It's been more stressful because we've been trying to put out a record, but we have so much other crap we have to deal with. So, to all our fans we'd like to say thank you for waiting and still coming to check us out. I know it's been two years since Mutiny! and we keep playing the same songs. We just posted a new song, and we have three other ones that we're working on, and October 1 to November 15 we'll be in the studio with Mike Green, who has done The Matches, Rufio, Over It and the last Paramore record. We're really stoked to go in there and work with him. We'll certainly be releasing something in Spring of 2009.
Speaking of new stuff, I was just going to ask about new music. Have you guys been working on anything during Warped?
Jordan, who is the main songwriter, has a way he wants the songs to sound, but then we all add our own little flavor to it, so there's been a lot of songwriting going on especially on Warped Tour. Hopefully, we can get this record out.
Been spending a lot of bus riding time writing?
That's why it's nice that we have our own bus, because we can focus on things that are more important.
So after this, you guys have a trip to the U.K. to do a couple festivals and then the U.K. leg of the Easycore Tour with New Found Glory. Are you guys excited for that?
I'm stoked. We got asked to do the Easycore Tour in the states, but we don't want to burn ourselves out. Warped Tour is our last U.S. tour, then we take a month off and then do the record, then we head to the U.K., and then Reading and Leeds, so we get to hang out with our boys in Gallows, so that will be cool.
Interview number two So have you started recording the new album yet, or done demos for it?
We've demoed a little bit. We have a lot of skeletons, which is exciting. We were on the road for the majority of the last three years. It's getting to that point where the record's been out for a while, and we're ready for new material. It's not only for ourselves but for everyone else that likes our band. We're stoked on the new stuff, it's hard to say where it's gonna go.
You've got the demo of 'The Fallen' out online, and you played that today.
I think we messed it up today.
I didn't notice, I thought it went over pretty well, you had a fairly decent crowd.
Yeah, I was excited. Like last year it sucked, and today it was awesome.
'The Fallen' is a pretty fast-paced song for you guys, there's no real breakdown in it.
Yeah, we thought the parts of the song meshed well together and it didn?t need any excessive in your face heaviness. I think the part at the end, even though it's short, like that very last drop, that's one of the heaviest parts we have. It's not typical breakdown style, it's just naturally heavy. I think all that stuff goes over better than just chugga-chugga breakdown.
This was a while ago, someone in the band, it might have been Jordan, said when he was starting to write the new album, he was listening to a lot of Bruce Springsteen. I didn't pick up that influence in 'The Fallen.'
I don't think there's much of that influence in there. I think he's more just looking up to great songwriters of the past. Jordan puts a lot of pressure on himself to produce good songs that he thinks everyone will be happy with. A lot of times we've had problems and we've always seemed to work through them. But yeah, like any musician, you always want to be learning how other people do their songwriting, I think that's what he meant. Who can't love the Boss? [Laughs]
How's Warped going overall this year?
Warped Tour is intense. I think that's the best adjective for the tour. It's bittersweet because it's the best time of your life, but it's also the hardest tour any band can do. Everybody says "How can it be hard? You're in a bus, you play in front of all these people." Honestly man, we're just exhausted from it. You're up from 7:30 in the morning until 1:00 at night or whenever. You're pretty much busy the whole day. Last year we did Warped in our van for three weeks.
Are there any bands that you've seen on the tour that you didn't know of before that you've been digging?
One band that I didn't know of before the tour that I really liked while they were on it was Maylene and the Sons of Disaster. Bring Me the Horizon as well. They've been on the tour for a couple weeks now, their crowd responses are crazier than half the main stage bands. It's interesting, their live show. They have a lot of Disembodied influence in their guitar riffs, they're so heavy.
They're a little more death metal influenced than most of the bands on Warped.
Yeah, I don't understand why they have so many [female fans]. It's awesome, but I don't get it. Normally, death metal bands are mainly dude audiences, metalheads and stuff. Every one of their shows [Bring Me the Horizon has] two or three rows of girls in the front, screaming all the lyrics.
Speaking of death metal influence, you guys are friends with Animosity right?
Oh yeah. I was thinking today, with the way Bring Me the Horizon is going over, I wish Animosity would be on Warped Tour. If kids are warming up to bands like this, then they definitely have a good chance. They have such a fun live show, you get in the pit, you can just mosh. They're our good friends from back home.
You should tour with them.
We did a long time ago. A Northwest weekend, up to Washington and back, seriously probably our first tour ever, it was in [early] 2005, end of 2004. We had maybe six or seven shows, I think we had the most problems on that tour that we've ever had. Crashed our van, pulled over a bunch.
In the fall you're doing the U.K. tour with New Found Glory, Crime in Stereo and Four Year Strong.
I have to sit back and pinch myself, because I still can't believe [it]. I'm the youngest one in the band, I always loved New Found Glory growing up, they're one of those crossover bands, they've done it right, they've got the best formula. It's weird to say that we're friends with them now, we can call them up on the phone and have a relevant conversation. Our friends in Four Year Strong are on [the tour] too, we're going to be sharing a double-decker bus with them. We had to turn down a lot of other tours, tours that we wanted to do, but we just wanted to get home, get back to normal life. We want to bring ourselves back into that element of real life, we?re just trying to get as much downtime as we can before we head out for the next record, write as much as we can and just get ready for the next three years. Get the record out and hit the road again.
What are you looking at for a release date?
If all things go well, we're hoping we can have the record out by spring 2009. That would set us up in the recording studio for the latter part of this year and give them a month or two to get the CD ready and all that.
You guys have been known to throw the occasional cover into your set. Any chance of seeing Movielife covers?
I don't know if Vinnie [Caruana] would approve. Nah, he wouldn't care because he knows we love the band. I don't know, maybe not for a while. We got overly stimulated by that offer to help Vinnie out and play those songs. It's way better than a cover that we could ever do. So maybe not Movielife, but we're always searching for fun covers to play in the set.
I think that's about it. Any closing comments?
To anyone that's been waiting a long time for the record, we're working hard, bear with us, and we'll hope to have that out in the beginning of next year.