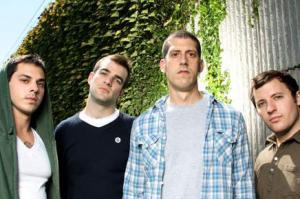 Philadelphia's Paint It Black recently began a European tour in support of their latest, critically-acclaimed full length. New Lexicon. They are joined on the trek by Trash Talk
Both Paint It Black and Trash talk will be documenting the tour for us in a new, exclusive tour journal here on Punknews.org. Today, we've got the first two entries, courtesy of Paint It Black frontman Dan Yemin.
Thursday Sept. 11th
Leaving for Europe today. Probably not the best day to fly if you're superstitious, but thankfully that's not one of my (many) anxieties as we get ready to leave. Really excited about this tour for so many reasons: it`s been 2 years since we've been over the Atlantic, we have a (relatively) new album out, and for the first time one of our albums has been released on a European label. Our friends at Reflections Records in Holland have worked really hard to support "New Lexicon" and i can't wait to see if people are excited about the album over there. The other obvious reason to be stoked on this tour is that we're going with Trash Talk, one of the most exciting punk/HC bands around. They're so intense live, and we play so much better when we're inspired by playing after a band this good.
We're not even on the plane yet as disaster strikes for the first time. The attendant at the baggage check-in counter tells Josh that it looks like his passport has been through the laundry (it has, several times), and also notes that it has a huge stain on it. I don't care to speculate what this stain is from, but suffice it to say that the washing machine didnt come close to getting it out. She seems pretty sure that Josh can't get on the plane with a passport in this condition.
Since the plane was supposed to leave in 35 minutes, we really didn't have to time to figure out what to do. Josh had to stay and get a new passport, and we had to sprint to the gate and improvise. The flight over was crazy stressful, because we didn't have a guitar player, and didn't even know if Josh was going to be able to replace his passport and get to Amsterdam at all.
 
Friday September 12th:
Once we landed, Clio and the bus driver met us at the airport. We called every guitar player that we could think of to learn the songs at the last minute and fill in for a couple of shows, but they were all on tour or working. The only other options that we could come up with were canceling the first two shows (no fucking way) or having someone else do the vocals and have me play guitar. I was pretty nervous about the 2nd option, since i don't even come close to playing guitar on a daily basis at this point, and I was afraid I wouldn't be able to pull it off. Also, who's gonna sing? Clio was able to get in touch with Nico, who sang for a band called Omission that played with us the last time we were here. He also sings in a band called the Hunger. He's apparently pretty into P.I.B. and was stoked on the possibility of filling in on vocals for a couple of shows.
We got an hour or so to sound check before the first show in Arnhem, Netherlands, and we sorted out which songs we wanted to play and which songs he could comfortably pull off. We (sort of) got our shit together and began playing the waiting game until it was time to face the music. Whatever anxiety I was experiencing (a lot), Nico looked so anxious it seemed as if he was going to fall over. Somehow we pulled it off. Nico got comfortable and threw himself into the role, and I think it worked out pretty well. So, yes, P.I.B. is in Europe with a fill-in singer for at least two shows. Tour is awesome, and traveling to other countries and meeting rad kids and playing shows thousands of miles from home is a privilege. But I'm sad that I don't get to sing. More later.