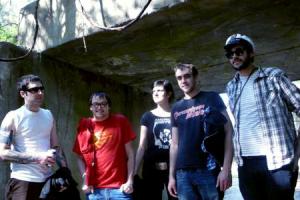 Today we've got a stream of the new rarities compilation from The Measure [SA]. The collection is titled One Chapter In The Book: A Collection of Standard Waits and Measurements and it collects their previous 7-inches and was released by Kiss of Death and Team Science.
All of the songs have been remastered and include cuts from the Union Pool 7" on Idiot Box Records, the Old Crow 7" on Los Diapers Records, the split 7" with the Modern Machines on Salinas Records, the split 7" with O Pioneers on Kiss of Death Records, the split 7" with Off With Their Heads on Chunksaah Records, the Means To An End 7" on Salinas Records, the Historical Fiction 7" on Kiss of Death/Team Science Records, and a previously unreleased track. The band has posted two remastered tracks, "Historical Fiction" and "Union Pool," at their MySpace page.
You can check it out on their Punknews.org Profile.