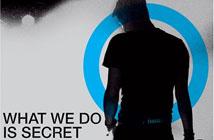 Peace Arch Entertainment has announced a DVD release date for the film, What We Do Is Secret. The disc is due out November 4, 2008.
The film tells the story of Darby Crash, who became an LA punk icon before taking his own life in 198 0. After getting kicked out of high school, Darby (Shane West) forms The Germs with a collection of friends who have lit tle experience with their instruments or playing music; Pat Smear (Rick Gonzalez), Lorna Doom (Bijou Phillips) and Don B olles (Noah Segan). After a few disastrous gigs, the band begins to click and Darby and The Germs soon find themselves t he talk of the LA punk scene. When hard drugs enter the picture, Darby starts alienating those closest to him and when T he Germs collapse, he's at a loss to figure out what comes next.
Director Roger Grossman enlisted the help ex-Germs guitarist Pat Smear, as well as members of Crash's family and others involved in the late '70s/early '80s Hollywood punk scene, You can find the box art here.