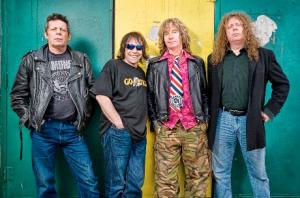 Teenage Head guitarist and co-founder Gord Lewis has spoken out on the death of his friend and bandmate Frankie Venom. Lewis gave a candid interview to Grant Lawrence of CBC Radio 3 yesterday, and you can stream it at their website. Venom, aka Frank Kerr, died from cancer on October 15. He was 51.
For fans in the Haminton, Ontario area wishing to pay their last respects, visitation times are tonight from 6 to 9 PM and tomorrow from 2 to 4 PM at Swackhamer, Blachford and Wray, located on 1341 Main St W.
Kerr and Lewis helped form the band in 1975 when its members were still in high school, making them one of the earliest punk bands in Canada and winning them the title of "Canada's Ramones." The group released their self-titled debut in 1979, breaking through with the album Frantic City in 1980. Teenage Head most recently teamed up with Ramones drummer Marky Ramone to record an album of the band's classics. It was released this past April.