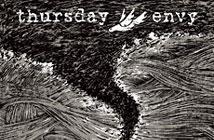 The highly anticipated split between Envy and Thursday is now streaming online. The split is being released as a vinyl+CD combination by Temporary Residence.
You can check out the stream here.
Speaking of which, you can still enter to win a rare test press, gold or silver vinyl edition of the album via our contest here.