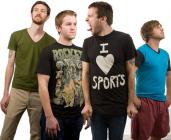 Max Bemis of Say Anything and Chris Conley of Saves The Day have unveiled their new project together, Two Tongues. The group also features Coby Linder and David Soloway from both bands. The band has unveiled plans to release their debut full length next year. The record is titled Two Tongues and is due out February 13, 2009.
Bemis commented on the project:

Chris has been my favorite songwriter since I was 15. Ten years later he is now is one of my closest friends. The Two Tongues record is really an expression of the yin and yang; how two "opposite" souls stimulate and battle each other in any truly loving relationship. Chris inspired me as a mentor, hero and friend, and I inspired him as someone who truly cherishes his work that he can respect in his own right.
You can find some music on their myspace page.