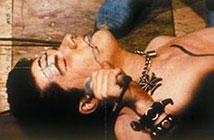 Premiere has put together what they are calling the 20 Punkest Films. The list includes both fiction, documentaries and music films. The list includes a lot of great choices including Rock 'N' Roll High School , Blank Generation (which included Richard Hell), Penelope Spheeris's documentary, The Decline of Western Civilization, Repo Man, Desperately Seeking Susan, Sid & Nancy, Pump Up the Volume and more along with explanations and more.
Check out the list here.
Potentially controversial omissions however, include The Filth & The Fury, Rude Boy, American Hardcore, Another State of Mind and Hard Core Logo..