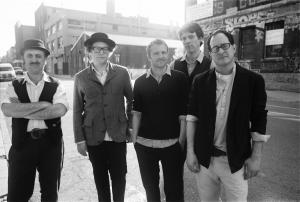 Franz Nicolay may well be one of the busiest men in independent music. The Brooklyn resident plays keyboards for The Hold Steady, accordion/piano for World/Inferno Friendship Society and has a number of other groups on the go such as Anti-Social Music and Guignol. This past summer James Hepplewhite caught up with Nocilay at Chicago's Pitchfork Music Festival where the two discussed all of Nicolay's musical ventures.
Let's talk about the new Hold Steady record, because I'm sure you're not tired of talking about it!
This is the first interview I've done for it, so I don't have all my answers worked out yet, which is a good thing, I think.
Thank God, because now we can call this an "exclusive", right?
Yes.
There's a bunch of musicians from the World/Inferno Friendship Society on that record, you've got Yula and a couple other people who's names escape me at the moment…
Peter Hess?
Yeah.