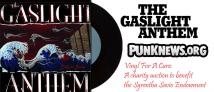 We've teamed up with The Gaslight Anthem to offer you a chance to win a rare, black vinyl test-pressing of the band's debut LP, Sink Or Swim. Additionally, the record sleeve has been signed by the entire band.
Here's how it will work. This is a charity auction, so to win the album, you'll have to head over to our listing for the record on eBay. You can see it here: Gaslight Anthem Charity Ebay Auction.
All proceeds from the auction will benefit The Syrentha Savio Endowment, a charity which provides financial assistance to underprivileged women who cannot afford the expense of fighting breast cancer.
As an added bonus, the affiliated Shirts For A Cure project will be donating a special Gaslight Anthem shirt in any size to the auction winner. Good luck!