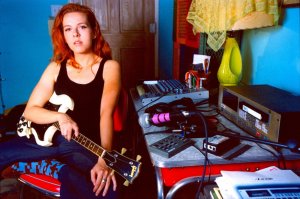 Anti- Records has announced a March 3rd release date for the new album from Neko Case, titled Middle Cyclone. The fifteen track album follows up 2006's Fox Confessor Brings The Flood and was produced by both Case and Darryl Neudorf.
Recorded in Tucson, Brooklyn, Toronto, and Vermont, the album will feature guitarist Paul Rigby, bassist Tom V. Ray, backing vocalist Kelly Hogan, multi-instrumentalist Jon Rauhouse, and drummer Barry Mirochnick. Guests on the record include M. Ward, Garth Hudson of the Band, Sarah Harmer, and members of the New Pornographers, Los Lobos, Calexico, the Sadies, Visqueen, the Lilys, and Giant Sand among others. The album features two covers, showcasing renditions of "Never Turn Your Back on Mother Earth" by Sparks, and "Don't Forget Me" by Harry Nilsson.
Click below to check out the track listing and cover art.
This Tornado Loves You
The Next Time You Say Forever
People Got A Lotta Nerve
Polar Nettles
Vengeance Is Sleeping
Never Turn Your Back On Mother Earth
Middle Cyclone
Fever
Magpie To The Morning
I'm An Animal
Prison Girls
Don't Forget Me
The Pharaohs
Red Tide
Marais La Nuit