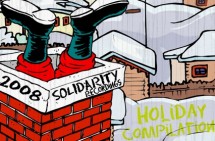 Solidarity Records is ringing in the new year with the release of a free holiday compilation featuring over 30 tracks from the likes of Lemuria, The Queers, Mike Park and For.The.Win, which features ex-members of Wardogs, who will be releasing their debut record on Asian Man early next year. You can download the album here using the password "jinglebells".
The Hot Toddies - "Santa Baby"
The Atom Age - "One Minute to Midnight"
Lemuria - "Mechanical"
Anchor Down - "El Radio"
For.The.Win. - "Another Day"
Olehole - "Chimps Night Out"
The Queers - "I Can't Stay Mad At You"
O Pioneers - "Dead City Sound"
Echoes of Harpers Ferry - "Endangered Species"
I-Spy - "Appliances and Cars"
imadethismistake - "Clear Skies Beyond Tallahassee"
Anchor Arms - "Cold Blooded"
Hanalei - "One Big Night"
Slow Fade - "A Day In Slow Motion"
Pteradon -Hey Freddie Mercury"
Like Claw - "Ache (Jawbreaker Cover)"
The Action Design - "Connect/Disconnect"
Wayne Arms - "A Kind of Revolution"
Mike Park - "Crowd (Operation Ivy Cover)"
Bastards of Young - "New Reaction"
The Ghost - "Gem, Mint Ten"
Ok Pilot - "Are You Afraid of the Sting"
The Honor System - "Muffled by Concrete"
Yeti Hands - "Goodnight Firefly"
Amanda Stahl - "Run Away"
Arms Aloft - "Comfort at Any Cost"
Success! - "Trains, Planes, Bicycle Mobiles"
The Damage Done - "Teen Bop Hit Factory"
Get Dead - "Leave a Message"
Hanalei - "Moth to Flame "