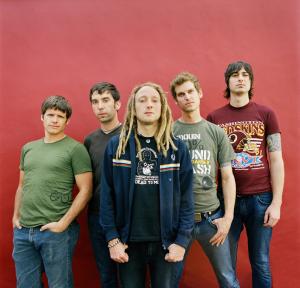 Strike Anywhere recently spoke to Alternative Press about their forthcoming album. The band is aiming for an August 2009 release date for the album, tentatively titled Iron Front:

Looking around his South Central Los Angeles neighborhood, Strike Anywhere frontman Thomas Barnett wonders about the place of protest music in the world these days. But through the sounds of circling police helicopters and gunfire, he hears a voice of hope and coming change.

He also sees it in gang graffiti, which he observes always seems to skip the 'Obama for President' posters. Strike Anywhere's upcoming fourth album (tentatively titled Iron Front after a pre-World War II anti-Nazi group) is a mix of those feelings. 'It seems like it's going to be a lot darker,' says Barnett. 'It's a mix of more optimistic ideas, but also songs about the apocalypse.'
The band released Dead FM in 2006.