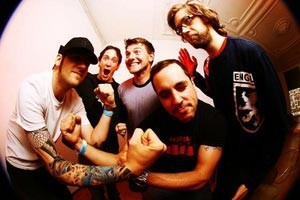 New Bedford, Massachusetts' A Wilhelm Scream ended 2008 by unveiling an unreleased, unmastered song titled "The I Hate ___ Club." It comes from the sessions for 2007's Career Suicide.
Before their winter break the band finished drum and bass demos for five new songs. Guitarist Trevor Reilly commented that the songs are "fast, lengthy and cocky sounding." Judge for yourself at their MySpace page.
The band will hit the road later this month in the United States and Canada for a tour with the The Swellers and Streetlight Manifesto.
| DATE | TIME | VENUE | WITH | CITY |
| --- | --- | --- | --- | --- |
| 27 Jan 2009 | 18:00 | Club Soda | w/ STREETLIGHT MANIFESTO/THE SWELLERS | Montreal, Quebec |
| 28 Jan 2009 | 20:00 | Imperial | w/ STREETLIGHT MANIFESTO/THE SWELLERS | Quebec City, Quebec |
| 29 Jan 2009 | 20:00 | Babylon | w/ STREETLIGHT MANIFESTO/THE SWELLERS | Ottawa, Ontario |
| 30 Jan 2009 | 19:00 | The Sound Academy | w/ STREETLIGHT MANIFESTO/THE SWELLERS | Toronto, Ontario |
| 31 Jan 2009 | 20:00 | The Penny Arcade | w/ STREELIGHT MANIFESTO/THE SWELLERS | Rochester, New York |
| 2 Feb 2009 | 20:00 | Diesel | w/ STREETLIGHT MANIFESTO/THE SWELLERS | Pittsburgh, Pennsylvania |
| 3 Feb 2009 | 20:00 | Tremont Music Hall | w/STREETLIGHT MANIFESTO / THE SWELLERS | Charlotte, North Carolina |
| 4 Feb 2009 | 19:00 | Common Grounds | w/ STREETLIGHT MANIFESTO/THE SWELLERS | Gainesville, Florida |
| 5 Feb 2009 | 19:00 | State Theater | w/ STREETLIGHT MANIFESTO/THE SWELLERS | St. Petersburg |
| 6 Feb 2009 | 19:00 | Culture Room | w/ STREETLIGHT MANIFESTO/THE SWELLERS | Ft. Lauderdale, Florida |
| 7 Feb 2009 | 18:00 | The Club @ Firestone | w/ STREETLIGHT MANIFESTO/THE SWELLERS | Orlando, Florida |
| 10 Feb 2009 | 19:00 | Java Jazz | w/ STREETLIGHT MANIFESTO/THE SWELLERS | Houston, Texas |
| 11 Feb 2009 | 20:00 | Emo's | w/ STREETLIGHT MANIFESTO/THE SWELLERS | Austin, Texas |
| 13 Feb 2009 | 20:00 | Launchpad | w/ STREETLIGHT MANIFESTO/THE SWELLERS | Alburquerque, New Mexico |
| 14 Feb 2009 | 20:00 | The Rock | w/ STREETLIGHT MANIFESTO/THE SWELLERS | Tucson, Arizona |
| 18 Feb 2009 | 20:00 | Thee Parkside | w/ TBA | San Francisco, California |
| 19 Feb 2009 | 19:00 | Knitting Factory | w/ TBA | Los Angeles, California |
| 21 Feb 2009 | 19:30 | Marquis Theatre | w/ GUTTERMOUTH | Denver, Colorado |
| 22 Feb 2009 | 20:00 | Black Sheep | w/ Guttermouth | Co. Springs, Colorado |