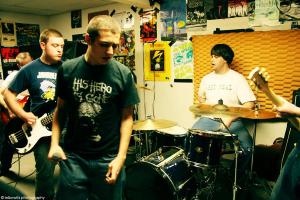 Long Island's Agent continue to fine-tune their potent blend of late `90s melodic hardcore and mid-`90s emo on their newest endeavor, the long-gestating Awake in Their World 7". It's the band's first batch of new material in over two years, and we've got a full stream of it for you. Once again tracked with ex-Latterman and current Iron Chic junkie Phil Douglas, picture the Promise Ring and Texas Is the Reason breaking bread with Lifetime and Saves the Day over conversations of the tremors in transitioning to adulthood. If that sounds good, head on over to their Punknews.org profile page to check it out.
Awake in Their World is being issued by Run for Cover Records, who recently experienced an unfortunate hitch in operations and should have it properly released soon.
Agent's last release was 2006's I Wouldn't Trade That for Anything EP on Iron Pier.