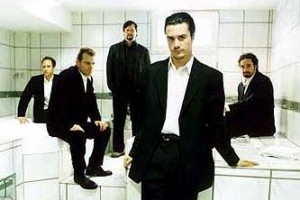 Faith No More have released a statement confirming that they will reunite for a tour this year.

During the entire 10 years that have passed since our decision to break up we've experienced constant rumors and requests from fans and promoters alike. Nevertheless, for whatever reason, none of us kept in regular touch, much less to discuss any possibilities of getting together.

What's changed is that this year, for the first time, we've all decided to sit down together and talk about it. And what we've discovered is that time has afforded us enough distance to look back on our years together through a clearer lens and made us realize that through all the hard work, the music still sounds good, and we are beginning to appreciate the fact that we might have actually done something right…and so with this we've decided to hold our collective breaths and jump off this cliff…. BACK, GOD FORBID, INTO THE MONKEY CAGE!!!"
The band will be performing with their final lineup, and does not include founding guitarist Jim Martin, who left the band in 1993.
You can find more details here.