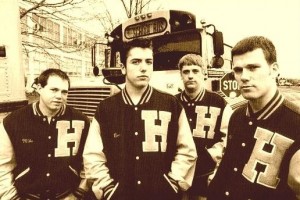 Huntingtons have announced a reunion show and a new release. The Ramones-influenced pop-punk outfit split up in 2005.
They explained:

Jeannie Pierce was diagnosed with stage three Brain Cancer on May 2, 2006. She has had three brain surgeries thus far and has limited use of the left side of her body. Long time Huntingtons fans will recognize the name Jeannie from the song "Jeannie Hates The Ramones." Jeannie is the wife of original Huntingtons drummer, Mike Pierce (aka Mikee Huntington). To show our love and support for Mikee and to raise money to help his family during this most difficult of times, we have decided to get the old lineup back together for a big concert.

We have asked several bands who we shared the mid 90's scene around here with to reunite and take part in this concert as well. Basically, get ALL the old gang back together. Healing is best done in the company of family and, in many ways, we're all family.
The band is also planning a digital-only release featuring tracks from their split with Darlington, two album b-sides and two new songs. You can find more details (and check out music) on their myspace page.