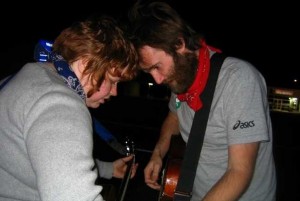 Ginger Alford (Good Luck, One Reason) and Paul Baribeau are bringing their Springsteen covers act back out on the road. The duo went out a few years ago on the "Darkness On The Edge of Your Town" tour and self-released an album full of covers. We missed the first few dates, but catch up this weekend in Florida and then back up the East Coast. Additionally, the vinyl for Good Luck's epic 2008 debut Into Lake Griffy is due out this month via No Idea Records. Check out the tour MySpace here.
March 2
Tallahassee, FL
Charles Mansion 228 E Tharpe St. 32303
March 3
Orlando, FL
Stardust Cafe 1842 E. Winter Park Rd.
March 5
Tampa, FL
Transitions Art Gallery in Skatepark of Tampa 4215 E Columbus Dr.
March 6
St. Augustine, FL
Harvest of Hope Fest
March 9
Gainesville, FL
The Kick Stand 744 S. Main w/ Ghost Mice etc…
March 10
Charleston, SC
255 Ashley Ave. 8pm
March 11
Richmond, VA info TBA
March 12
D.C.
Dining Hall of the Marvin Center at G.W.U. 800 21st Street, NW 7:30 pm
March 13
EARLY SHOW
Newark, DE
46 Madison Dr. 4pm
March 13
LATE SHOW
Williamstown, NJ
1619 Herbert Blvd 9pm
March 14
Baltimore, MD
Frisby House 3043 Frisby St, Baltimore, MD 21218
March 15
Philadelphia, PA
Big Mama's Warehouse, 1310 N. 5th Street, 7pm
March 16
New Brunswick, NJ
The Parlor (we cannot publish the address, write for info: gingeralford
gmail)
March 17
Brooklyn, NY
Death by Audio 49 S. 2nd St. (between Kent and Wythe) w/ Laura Stevenson 8pm
March 18
Boston, MA
Emanuel College 400 The Fenway 9pm
March 19
Dover, NH
Adelle's Coffeeshop, 3 Hale St. 6pm
March 20
Worcester, MA
Distant Castle
11 Forbes St.
March 21
Buffalo, NY
The Attic House, 1030 Elmwood Avenue 6pm
March 22
Columbus, OH
Monster House 115 W 10th Ave. 8pm
March 23
Lakewood, OH
Soggy Dog House 14613 Clifton Blvd
March 24
Western Springs, IL
Toby Foster's House address TBA
March 25
Chicago, IL info TBA
March 26
Bloomington, IN
Rachael's Cafe 300 E. 3rd St.