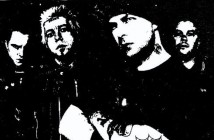 Rancid have announced a title and release date for their highly anticipated new full length. The record is titled Let the Dominoes Fall and is due out June 2, 2009. The record is the first new full length since 2003's Indestructible. In the intervening years, the band remained active with extensive tours as well as a number of solo and band releases like B Sides and C Sides and The Music Videos: 1993-2003 DVD.
The band recorded at George Lucas' Skywalker Sound Studio, with production by Epitaph Records founder/Bad Religion guitarist Brett Gurewitz. It promises features nineteen new songs, all written by Rancid. Special guest and Rock & Roll Hall of Famer Booker T contributes Hammond B3 organ on one track, "Up To No Good."
The band will be supporting the record on a co-headlining tour with Rise Against and supported by Rancid / Riverboat Gamblers and Billy Talent.