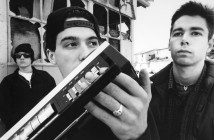 Beastie Boys have posted some special features to coincide with the release of the deluxe version of their 1992 classic, Check Your Head. Due out today, multiple configurations ranging from a high quality DRM-free digital download of the album (including its numerous and classic b-sides and bonus tracks) to an ultra-deluxe 4 LP 180HQ vinyl version packaged in a fabric-wrapped hardcover coffee table book case and limited to 2000 copies. The retail release date of all physical editions other than the 4xLP version will be April 7, with the ultra deluxe following close behind.
The album was particularly notable as it was the first to feature the trio performing live instrumentation since their early hardcore days prior to Licensed to Ill.
The band has posted a audio commentary, nine music videos, a Flash-game, trading cards as well as a "remixer" for the song "Gratitude."
The features all all available here.