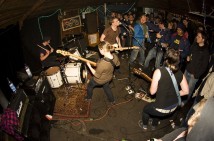 Brooklyn's Queens, NY's Bridge and Tunnel are currently in Europe, touring it up. Drummer Pat Schram sent us this update on their status. The band released their critically lauded East/West in 2008 and is doing a European release of a 7" this year via Yo-Yo Records. After they get back, they'll head out with Propagandhi (dates) and roll through Canada with Yesterday's Ring (dates).
So we arrived in Berlin a little over a week ago, our buddy Jan from Yo Yo Records picked us up and it was amazing to wake up in the airport and see his glowing German angel face. The shows in Germany were pretty rad, lots of squats. We played a thrash show in the punk trailer park bar (which pretty much looked like the Mos Eisley Cantina) and it was fuckin great. Some other things that have happend in in Europe thus far have been, lots of free vegan food, most of us still having to use our airplane pillows everynight to sleep on and we found out that show King of Queens is ALOT more popluar in Germany then anywhere in the world.
We just arrived in the U.K two nights ago and are playing a bunch of shows with this band OK Pilot. The kids here have been super rad and its been good to see some familiar faces that were at this years Gainesville Fest. I think today were headed to a beach which will probably be freezing but whatever. Two more weeks here and then back home to NY. fuck yeah.
-pat
Photos by Marc Gaertner