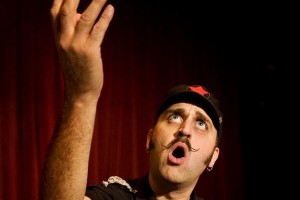 Today, we've got a brand new set of tour diaries coming from Franz Nicolay, multi-instrumentalist and member of The Hold Steady and World/Inferno Friendship Society. The shows are in support of his newly released debut. The record is titled Major General and his band features Brian Viglione (Dresden Dolls), Yula Be'eri (ex-World/Inferno), & Jared Scott (Demander). Other guests include Peter Hess (Balkan Beat Box) and lyrics on two songs by Jack Terricloth (World/Inferno).
4/18/09
In a literal sense, this tour begins April 21st in San Francisco. But I'm travelling west, diagonally, with the Hold Steady, to get to California, and in a way, I feel like this leg starts at Harrah's Casino South Room in Tahoe, where the Hold Steady, two days from the end of our tour, is playing our first casino show. It's been what promoters like to euphemistically call a "secondary-market tour"; your Albanys, Buffalos, Urbana, Bloomington, Las Vegas - and it can be a real crapshoot, venue-wise. Actually I've always thought that the sweet spot for the Hold Steady is the 300-600 capacity bar show in a midwestern college town, with $10 pitchers and a pool table, packed, drunken, and immediate. And for that, I thank Iowa City. But it's a patchwork of college food courts, even a "Faith in Music" festival at a Christian college in Grand Rapids; and my theme this month is the vagaries of life in what we call "show business" - the dizzying highs, the terrifying lows…
For example, the casino in Tahoe: a show-business classic, 50 years in business, framed photos lining the backstage, of Sammy Davis, Jr., Bill Cosby; Crystal Gayle, Robin Williams, and Garry Shandling arm-in-arm in what looks to be 1983; upcoming shows with the likes of Penn & Teller and Sammy Hagar. Holds, I'd say, a thousand people. For the Hold Steady this Tuesday, it's snowing sideways, about thirty degrees outside, and a solid sixty people show. The casino folks don't seem perturbed - they're making their money elsewhere, they just need entertainment in the room, and happily give us hotel rooms, meal vouchers, and a pat on the back. The stage is flanked by JumboTron screens, and when the video operator feels there's not enough action onstage, he cuts to screensaver-esque shots of billowing smoke and burbling brooks. My favorite part of the show is looking past the handful of superfans in the front to the stoic, elderly couples scattered throughout the room, who've been comped tickets to the night's entertainment, but were obviously expecting something more in the vein of, say, Jeffrey Ross.
i've always thought a good rule of thumb is play to 50 people as if you were playing to 50,000, and if you are lucky enough to play to 50,000, play to the 50 right in front of you. The shows people love to remember are the ones where they saw a great band in a near-empty venue; and though, certainly, the band wished the room was full, you'd have to be a cad to show it and ruin their fun.
On that topic - the ridiculous to the sublime, the snowy to the sun-baked, or something to that effect - we played the giant Coachella festival in a desert polo grounds in southern California three days later, and I saw an object lesson in performance manners. Perhaps you've heard that Leonard Cohen recently suffered a severe financial setback. He spent six years studying in a Zen monastery, during which time he left his affairs in the hands of a personal manager - who took him for five million dollars, essentially his life savings. So, at 74, he's back on the road, and a more gracious performance I've never seen. All ten or twenty thousand people waiting for him on a second stage, waited in a hushed silence, like a church service. And indeed, one of the notable details was that this was the quietest PA sound I've ever seen at a festival show, so the religious atmosphere held, up to a really chilling mass singalong to "Hallelujah". One detail that really pleased me was that, every time a member of the band took a solo, he removed his fedora and held it over his heart for the duration, as a gesture of respect.
So it pains me to report - and I think I feel so strongly about this because it so followed so immediately upon such a display or graciousness by a man with every right to be bitter - that Morrissey, who played next on the main stage, was, and I wish I could come up with a more eloquent way to put this, a pissy little bitch. At first I thought he was having problems with in-ear monitors, as he kept pointing at his ears and wincing as he skipped lines, rushed through songs, and grumbled. I realized, though, that it was only happening when he deigned to play Smiths songs, and it was his passive-aggressive way of making it clear that he didn't want to have to play them. Fine, I thought. No-one's making you play the damn songs. I like the solo songs; I think they're just as good as the Smiths catalog. Give 'em "How Soon Is Now" at the end of the set and be done with it. But press on he did, complaining about the smell of barbeque from nearby catering tents: "I smell burning flesh. I hope it's human…." He stomped offstage during "Some Girls Are Bigger Than Others", leaving a nonplussed band to wrap it up alone. Returning: "The smell of meat - I can't take it - I can barely breathe." On the one hand, of course he's narcissistic, spoiled, and full of complaint: he's Morrissey. But on the other, Christ, just stay home and make records if you want a controlled environment.
On my way to the stage for Cohen's set, I was stopped by a security guard, as a motorcade of black Escalades pulled up to a gate. While we waited on the sidewalk, out stepped Paul McCartney, in a baggy grey suit. And red sneakers.
Which I suppose is the kind of thing the richest entertainer in the world can get away with, though two and a half hours of McCartney was an adult dose. For a guy worth half a billion dollars it was an admirably simple stage show (especially the ukulele take on "Something"). Except for the flash-pots and fireworks deployed for "Live And Let Die": a subtle display of the kind of fuck-you money that brings a full pyro setup for one song.
-----
4/20/09
The band heads home for ten days before a European tour, but I'm heading up the West Coast and back. Why? Part of it is simply financial - I don't make anything sitting around at home. Mostly, though, it's restlessness: I'm one of those people who's congenitally unsatisfied, with a low-level, constant static of discomfort. I've realized that one reason I travel so reflexively is that it gives me an excuse: why do I feel crabby, overtired, suspicious, uncomfortable? Oh, I'm on tour! Excellent! Having assigned and thus dispensed with my existential angst, I can work on other things with impunity and contentment.
That said, a weekend off in Los Angeles no great stress at all. Time was, I came to southern California like a typical New Yorker, with my black cloud pulled tight around my ears and polishing my bad attitude like a medal of honor. I think it was the rainy, cold January morning a few years ago when I left JFK in Arctic darkness and landed at Bob Hope Airport in the sunny 70s that I first began to think that maybe there was something to this whole SoCal business. I'd spent so many years chanting "I can't stand California" - what else have I been lying about?
It must be a common malady: to talk to transplanted East Coasters, you'd think no-one ever moved to LA of their own volition. They must not be this defensive to other Californians.
Speaking of East Coast transplants, former Mars Volta drummer Jon Theodore gives off such a McConaugheyan sense of beach-party ease and surfer-in-flipflops good will that if I hadn't been told he was a Baltimore native I never would've doubted that he was Californian, even Hawaiian, from the womb. At one point he referred to getting back in live-drumming shape as "throwing steel, banging tubs, and tanging humps." Tanging humps? "You know, tang-ta-tang-tang", miming a rhythm on the bell - the hump - of a ride cymbal. Wow.
----
My fairy godmother this weekend is my friend Bob, a songwriter and journalist late of the DC indie-rock scene, who moved to LA a few years ago to work as a screenwriter. He's lending me his room for the weekend, and his sleeping bag and green Econoline van for the tour. An ironic, cropped redhead in a flat cap, he has an aura of Irishness, though I don't actually know his ancestry. His house sits on a small plot in Silverlake that makes for as good a snapshot of the neighborhood as any: the roommate runs a venue, her boyfriend books metal bands; the landlord, who lives in another building behind, made some money as an engineer on the Everlast record and has a studio with his girlfriend, a singer, in their garage. I sit on the porch and bang out an essay on "the saddest song I know" for the Spectrum Culture blog. ("Ruth Marie", by Mark Kozelek, in case you're wondering. It may very well be up by the time you read this, why not pop over and check it out?) The landlord wanders over and asks if I'm amenable to playing some accordion on a track he's working on, in exchange for some veggie curry. "Will play accordion for food" is as good a phrase to live by as any. Bob and I go to a party where his friends' band is playing: a warehouse with low couches, pillows, light electronica, garbage-can fires in the parking lot; shaved-head social-networking entrepreneurs in white-rimmed glasses who look deep into one's eyes. A religious group giving a family to grown urban orphans and runaways. La vie boheme.

4/20/09
In all my circumferencing of the country, I've never driven the Pacific Coast Highway - I've always, had to be somewhere, and a nine-hour drive serpentine two-lane road is incompatible with timely soundchecking. It's Monday, though, and my show in San Francisco isn't until Tuesday night. I'm touring with a tall, avuncular, and elegant Swede named Anders, who records as Moneybrother. We've not met, but I've been following his music with interest ever since the summer tour in central Europe five or six years ago when all the German drivers and clubs were inescapably blasting his single "Reconsider Me." He's travelling with Henrik, aka Kisa (pronounced "Sheesa"), a significantly more reserved multi-instrumentalist who's not toured in California before, and so Anders has promised him a PCH drive. They've rented a car for that purpose and will meet me in San Francisco - but once they've planted the idea in my head it sounds like such a good idea I can't not do it myself.
And so to the road: scrub-brush cliffs, like the Crimean coast; half-calved Titanic rocks breaking the surf; dizzying curves. The naval observatory perched atop a giant, incongruous boulder like a starfish. An "Elephant Seal Viewing Area" packed with tourists, staring at - rocks, but no elephant seals. (The seals, it turned out, were basking a few miles further, Brobdignagian, whiskered slugs.) Soundtracked by the Bronx mariachi record and Charles Aznavour, I pulled in at Hearst's castle at San Simeon, a Neuschwanstein growling from a cliff conceived by our own mad King. Light-headed from the switchbacks, past a red-faced couple on a bicycle-built-for-two, down into the shadows of the Big Sur forest, past the still-searching futurists of Esalen and the Henry Miller home, and through the sunset over Monterey.
---
I am often scolded for failing to inform that I have "three hot sisters". So now you know. The youngest just graduated from Savannah College of Art & Design and struck out for the territories to make her fortune, a phrase which in this context you may substitute for 'territories", "Sausalito"; and for "fortune," "graphic design work". Said fortune is not yet forthcoming, but she lives in a cozy development in the suburb of Sausalito, three post-collegiate ladies sardined into a two-bedroom; and now a worse-for-wear older brother sucking down a six-pack of Sol and abandoning the air mattress (are they ever comfortable?) for a swaddling chaise longue.
Through a mutual associate, it came to pass that I'd spend my afternoon in San Francisco playing accordion on some new songs that Mark Eitzel is recording. I've made no secret of my fandom for the once and future American Music Club frontman, a glowering, bearded homosexual with a chocolate-mousse voice and an on-a-dime personality (the two sides of said dime being solicitous, humble concern; and aggressive, sometimes crude sarcasm). Essentially, I learned songwriting as a teenager in two ways: going through the Bob Dylan lyric book, song by song, and carefully notating the chords for each song in pencil; and figuring out how to play the ambiguous, open-tuned chords of American Music Club records. And I'd taken from Eitzel's own performances the lesson that acting the comedian or the fool between songs takes the edge off what might otherwise be desperately painful lyrics: give them some sugar with their medicine. It was with both trepidation and nervous excitement that I regarded the session, so naturally the first thing I did was lock my keys in the van.
---
An old friend was in town: Eric Cash, the former Dr. Eric von Know-Nothing, ringmaster and mastermind of the late Know-Nothing Family Zirkus of New Orleans and the world; purveyors of eye-popping but rather adult acts, for whom the term "motley" seems rather underpowered. 300-pound clowns with makeup tattooed on their faces. A man with one female breast, self-fellating on a bed of nails. Beer enemas, then consumed. A lady clown in a headstand-split, with a lightbulb inserted into her most private area, which said bulb then lights. A dreadlocked punk nailing his most tender parts to a 2x4, then putting a straw through the hole into a 40 and inviting the audience to come drink (said punk, actually, is my current roommate and now works for Citibank). The act de resistance, one "Piss-Puddles The Clown", nee Ludwig, who takes a song request from the audience; then, after one of the other clowns urinates in his mouth, gargles the request…Latter-day Eric is a street comedian in San Francisco, a Denis Leary for the punk-rock scene, scabrous and talkative, with an acid-brass voice and "smirk lines" - like laugh lines, but only on the left side of his face: the calcification of a life spent at acerbic odds with the world.

4/22/09
I'm pleased to find that Anders is an excellent van DJ. As one might expect from his brand of rugged, blue-eyed Scandinavian soul, not unlike "Asbury Park"-era Springsteen, he leans heavily on the kind of soul obscurities with busy string sections; but also unexpected deep cuts: Paul Simon and Wings obscurities, Barry White, Zombies lead singer solo records, Midlake, Pogues, "Blood On The Tracks". "Sultans of Swing" and "Wichita Lineman" in gently quacking Swedish translation.
Also, you may or may not know, but Moneybrother is rather a big deal in certain circles. Six records deep, he's won Swedish Grammies, can play for three thousand people in places like Berlin, and thus attracts a surprised and deeply excited handful of Norwegians and Swedes. Imagine a Dave Matthews or Jeff Tweedy playing on the floor at your local burger joint, and you can picture the reaction of the half-dozen or so Norwegian students from a Bible college just outside Redding. A pair of aspiring ministers take Anders aside after the show. "You have a great deal of passion, and we would like to heal you, to help you." They take him to a nearby, deserted park - Redding is an Americana enthusiast's dream, in fact home to the neon-spangled Americana Motel, you can find it next to the Thunderbird and the Sunset - drape their arms around his shoulders, no small feat considering the man is an easy six foot four, and pray for his health. He returns glowing with the story.
I have to say, the Downtown Eatery in Redding was one of the best shows I've ever played. One of the advantages of an accordion is, when you're meant to go on, inasmuch as "go on" has a literal meaning when you're playing what may be more accurately described as "the side of the room the PA is on" than "stage, and there's no-one in the room, you can walk into the bar in a white suit with an accordion strapped to your back and I guarantee you everyone in that bar will stare at you.
Sleeping on someone else's mattress in a punk house retains a certain charm for me - it has to, I can't afford otherwise on my tours - but I think it's uncomfortably nostalgic for Anders, who prefers the charms of the Thunderbird Motel across the street. Can you reasonably call it a punk house when the inhabitants are all in their thirties? The Born/Dead sticker on the file cabinet hung with janitor keys tells me there's no better way to describe it.
4/24/09
I would like to thank a DJ from a community radio station in Portland who goes by "The Seamstress of Sound" [http://kboo.fm/SeamstressofSound] for stitching together a truly ideal soundtrack for a late-night drive after an under-attended show. Radio can be a wasteland, and the occasional oasis is indeed refreshing. One wonders, as I did after the Salem show, who the six people you don't know personally who showed up are, and why they came. Then you figure that in any given crowd of, say, 150, six just wandered in to see what was going on. So, these were those six - just missing the other other 150…
Every time I hear "Midnight Train To Georgia" I think it contains the saddest couplet I know [http://www.lyricsdepot.com/gladys-knight-the-pips/midnight-train-to-georgia.html]: "I'd rather live in his world/Than without him in mine." He's left his life back home to join her in LA, but it's more than he can handle, and he's irredeemably, irrevocably, leaving, going back to where he's comfortable. And she's left with the choice: lose him, or follow him and leave her dreams behind. He's tried, for her. I get chills just reading it. EDIT: It was brought to my attention that this observation has been amply addressed in a Dismemberment Plan song. Whoops!
Anders posits a Nina Simone song, "Do What You Gotta Do" (Jimmy Webb again![http://www.metrolyrics.com/do-what-you-gotta-do-lyrics-nina-simone.html]) as a riposte: "Do what you gotta do, my wild sweet love/Though it may mean that I'll never kiss /Those sweet lips again, pay that no mind/Find that dappled dream of yours/Come on back and see me when you can/Do what you gotta do." But then, Nina Simone is a tougher lady than Gladys Knight. Tougher than most anyone.
----
After a rather well-attended, but attentive, show - which is not a bad thing, it just made me more introspective setlist-wise - spent the night with old friends, John from the Seattle band The Cops, and his wife Gravy, who have a perfectly appointed house in Ballard, which was described to me by a mutual friend as "looking like a 70s coke den". John pointed out that they've removed the shag carpet. But it is certainly turned out in High Kitsch style, with a fine collection of guitars, old electric pianos, and personalized, autographed glossies of Jesus Lizard in the bathroom. Champagne at 2am in the backyard. Impeccable hosts.
As a parting gift, John gave me a small pamphlet entitled "How To Be An Accordion Player", by ex-Terror In Tiny Town member Geoff Berner: "the Author, a World-Renowned Accordion Player, shows the reader the path to Greatness, using clear language…and pithy illustrative anecdotes about family members, the Saskatchewan Legislative Building, and Shaka Zulu." It is making my day. Chapter headings include "Approaching The Buttons Of Your Accordion Without Fear", "Correct Swimming Technique For Accordionists," and, thankfully, "Perils of Greatness."
Other titles in the (possibly fictional) "How To Be" series include "A Boozy Chanteuse", "An Asshole of Calgary", "Twitching and Shattered," and "Norwegian". Potentially a genius is at work here.