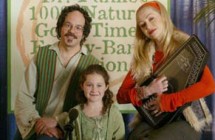 Time Again is planning to release a new record soon entitled (naked) which comprises 12 songs from the bands first 3 releases re-recorded in the style of 1960's folk music. The band made this statement:

We have been in the studio this past month finishing a new record. As our headline says, be brave and unafraid of change. We have been working on a record that has been as much fun as anything we have ever done. The new record named (naked) is 12 songs from our first three records, but recorded in a folk 1960's vibe.

We just wanted to have some fun and give things a different perspective. we are such music lovers that we wanted to do something fun and walk our own path. punk is about individuality and we hope you guys enjoy these acoustic-folk versions as much as we enjoyed recording them.
The band issued Darker Days last year.