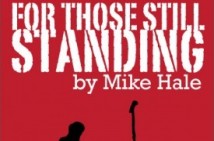 We're happy to bring you the tenth column from Mike Hale. Mike just packed up all his belongings and headed out on the road with no plans to return.
Ever hear of the pink couch sessions? My friend Dave in Brooklyn, NY has this great website that's becoming quite popular with a lot of the bands and artists that I'm into these days. He films acoustic sessions with bands that he likes while they play on his pink couch.
A couple of weeks ago me and the boys from Ninja Gun were invited to come to his apartment and each do a song so that he could add it to his quickly growing collection of performances. Although I had been talking to Dave for a couple of months about doing this I must admit, it was a little intimidating, It goes a bit further than a camcorder and a pink couch…. amidst a chaotic city background in an apartment over looking one of the busy city streets of Brooklyn, I was shocked to see that he had quite a professional set up. Lights, camera, microphones, computers and shit… I really wasn't prepared for this!
We're really proud to get to be a part of this today. He has gotten video footage from so many of my favorites… from Austin Lucas to Fake Problems. Everyone always seems to have their own style of playing when it comes to a quiet solo performance in front of the camera.
I was really curious as to how he got into doing this and this is what Dave had to say, "I started If You Make It in 2006 when I moved to Brooklyn from New Paltz, NY. At first it was just going to be a collection of YouTube videos that I shot from shows, mostly of my friend's bands. Between touring with Halo Fauna, and the bands that came up through here, I had tons of opportunities to shoot. Unfortunately, I realized that most small local shows have an assortment of limitations when it comes to audio. After filling many tapes with unusable footage, I decided to change up my approach and start filming in my apartment.
I've had this couch ever since I moved into my apartment, and I always thought it was sort of unique. I already had bands staying over from tours and such, so it made perfect sense for me to persuade them to record while they were here. I reached out to my friends first, and slowly that expanded to their friends, and their friend's friends. So through six degrees of separation I was able to get a bunch of awesome bands over here and record something different. With the cost of unusable cameras coming down, I think it's a great idea for anyone to get into.
I think there are a bunch of people who deserve recognition in this "scene" and hopefully this site will help them out. IYMI also runs off of donations, and I really couldn't keep this up without the generosity of those who've donated their time and money."
I hope any of you reading this take the time to check it out. You're guaranteed to find someone on there you know and love.