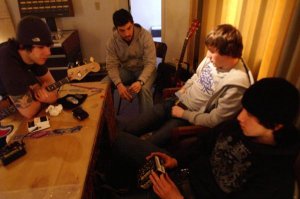 Have Heart will call it quits after its world tour with Shipwreck A.D..
According to the band:

Once the Fall rolls around, we can't really do this band the way we would prefer to anymore. Knowing this deadline of ours and having a whole world tour already booked, we'd like to take advantage of the chance to say goodbye to all the people we have met around the world over the years.

So, please come check us out in the remaining months on our little trip around the globe. So far Asia has been a wonderful experience and we're very happy to have had the chance to meet so many kind people and look forward to the rest of Asia.

It's been a nice 7 years and we'd like to thank all the unique hardcore kids and bands we have encountered. And in the words of DFJ, thanks to all the shit talkers for all the material to get off on. But, really….we have met so many wonderful people who we'll just never forget.
The band's last show will take place Oct. 17, 2009, National Edge Day.
Have Heart leave behind three releases: 2004's What Counts EP, 2006's The Things We Carry and, most recently, 2008's Songs to Scream at the Sun. Their final album was voted among the best of 2008 by Punknews.org readers.