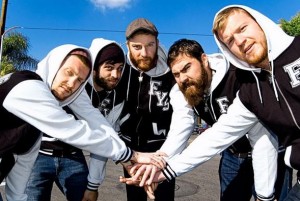 Pop-punk Four Year Strong have announced plans to release a new tribute album titled Explains It All. The band entered the studio with producer Machine (Lamb of God, Cobra Starship, Every Time I Die), along with cameos from Travis McCoy (Gym Class Heroes), Keith Buckley (Every Time I Die) and JR Wasilewski and Buddy Schaub (Less Than Jake).
They explained the notion:

We've always loved the 90's. Pogs, "The Sandlot", bowl cuts, "The Mighty Ducks", JNCO jeans, "Full House", Goosebumps books, Airwalks, "Home Alone", the list goes on forever. Most importantly, there was the music. It's what we grew up listening to. These songs have impacted us in some way and we want to share that feeling with you.

And so, we are proud to present Four Year Strong Explains It All. We've recorded some of our favorite songs from the 90s and this is our opportunity to show you guys some of the influences that helped make Four Year Strong what it is.
The record is due out July 21, 2009. It is the follow-up to Rise or Die Trying which was released in 2007.