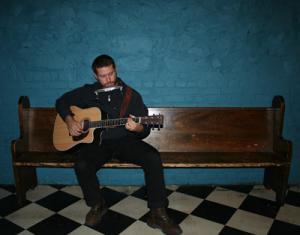 Between Hot Water Music "reunions" and a solo-effort that has resulted in what promises to be an extremely prolific endeavor, Chuck Ragan, hasn't really slowed down since he set out to do just that. Either way, his fans are luck for his decision to remain active. Punknews reader Dan Balda recently caught up with Ragan and asked him a few questions.
How's the tour going?
So far so good. It's going great. We're having a blast.
Has having an upright bass and fiddle added to your show?
Absolutely yeah, it's liberating playing by myself, but having these guys makes it just as fun. Digger and I have been playing over a year since Bristol Ridge, Gaunt and I have played together a while, he's played fiddle on all my recordings.
Top 5 (6) albums of the last year? Gaslight Anthem's '59 Sound, Bruce Springsteen's Working on a Dream, Gasoline Alley, Tim Barry's Manchester, all of Austin Lucas's stuff, Ben Nichols The Last Pale Light is absolutely absurd, it's so good.
How do you feel about the election?
It's so exciting, it's exhilarating. It's the first time in my life that someone I voted for actually won. Just to see the overwhelming response from communities and the population in our county, that everyone was so fired up. It's a monumental moment. It was wonderful.
Has the economy affected you at all?
Honestly it has not affected us that much. Where it has affected us is fuel prices, but doing what we do, whether you have a good economy or a good economy it doesn't really change nor effect bar sales. It's proven that one business that doesn't change is bar sales and entertainment. I haven't been doing a lot of work in that last couple of years, in my trade as carpenter, for the longest time work was just truckin', you got as much as you wanted, but then just the same it can just dry up; hence "Feast or Famine," that's where that all came from. A lot of my friends that are in the trades are suffering badly right now.