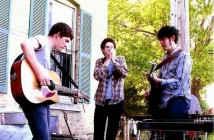 I Shenelle Coplien asked a buddy of mine from London the other day what the first thing was that came to his mind when I say Milwaukee, and he replied with a British slur, "Dahmer!" The notorious cannibalistic killings are often the most suggested portraits of this city. Occasionally someone will slip in the roots of Miller & Pabst, considering we have been voted the drunkest city in US many of times. But when it comes to music, none of my out-of-town friends can name a single Milwaukee-based band. Our music scene here is just like your city, plenty of awesome bands and plenty of shitty ones as well. Of course, some of our greatest we have exported to the rest of America, such as The Violent Femmes and The Promise Ring, but our next greatest export is The Goodnight Loving.
I got the chance to sit down with Zach Byrne and Andy Kavanaugh in the back end of a local, South Milwaukee venue. This folk-pop group doesn't have any intentions to dismember you, but they sure wouldn't mind slamming a beer or two with you.
So what's your name and what do you do?
Zach: My name is Zach and I'm in The Goodnight Loving
Andy: I'm Andy Kavanaugh, not Andy Harris.
Where is the rest of you?
Andy: Who knows. There probably at the show you just left and not answering their phones.
For those who haven't heard you yet, what do you guys sound like? Zach: That's really difficult. It's like a marriage of a lot of different influences. Andy: Yeah, we all take some of our favorite parts of rock and roll and different eras and put it together.
What's your favorite part of rock and roll?
Andy: My favorite part of rock and roll? I don't know, well, I guess it's folk, or country, or just straight up rock and roll. All the best of those genres, they all have their own swagger to it. Something that's definite.
I read that one of your biggest influences is The Byrds.
Andy: Yeah, for sure. I like a lot of 60's music. The usual, The Byrds, The Beatles, stuff like that.
Zach: Yeah I think that stuff is something we all grew up on.
Andy: Those bands are similar, in the way that they took all their favorite aspects of rock and roll and created their own sound. Isn't that what we are all trying to do? It's an American tradition to just redefining shit and making your own sound. But it's all rock and roll, and that's the great thing.
Zach: We've all been in every kind of band, from hardcore to whatever.
Well I remember the stuff that you (Zach) played in back in high school.
Andy: Oh yeah! Can we talk about the Millord Fillmores?
Zach: Uh, no. No, we cannot.
Andy: Yeah, we all got something embarrassing. Not that it's embarrassing, but it's like what you did in high school. Back in the Concert Café days, that was the shit, when we were like thirteen years old.
How did you guys all come together than?
Zach: Well, I started out going to shows in Green Bay, like when I was in high school. I would drive 3 hours for these shows and every time I was there I would see the same people there. Then I went to college in Green Bay and I got to know everyone. Basically, it's all Green Bay for me, that is what got me going.
Andy: I guess it was a little later for me. I grew up in Appleton. My Dad use to drive me to the Concert Café. I was in a surf band at the time and the first show I ever went to see there was a surf show.
What is the Concert Café?
Andy: It was like on Main Street in Green Bay, later turned in to Rock and Roll High School. This guy Tom Smith ran it. He was a really cool promoter; he got bands from all over the country including The Red's and Japan's Guitar Wolf. He'd also have tons of local bands play shows there. The dude would totally take a chance on them and would even encourage them. So we all just started to play a lot of shows there.
So where did the idea of The Goodnight Loving come about?
Zach: Well once Rock & Roll High School got closed down, everyone we knew in Green Bay moved to Milwaukee. I think for a year or so we were all sort of trying to figure out what we were doing. We were all still friends so we would drunkenly talk about playing music.
Andy: It probably started off with someone being like "dude, I totally love that Bob Dylan song" at like 3 in the morning. Than saying," Dude, that sounds soooo good, we gotta get a band together". We were all in a lot different bands. Zach was in some more hardcore bands. We just decided that we wanted to play in something that was a little more singer-songwriter.
You guys all write songs for your albums though, right?
Andy: Yup, you're right. Actually, our third record that will be coming out soon, all five people in the band at the time wrote a song. Our drummer Austin, he even wrote a song too.
Zach: It's hard when people ask us what we sound like, cause we have five different song writers, 5 different singers. So it's kind of hard to generalize it.
The name, Goodnight Loving, comes from a trail? I read that there was a song that Bruce Phillips sings called The Goodnight Loving Trail.
Andy: There is a lot of folklore about that trail. That was sort of a stroke of Austin's genius. At first we were like," That would be so cool to be in a band with love in the name." Than we all laughed hysterically cause we are all cynical assholes.
Zach: I think it's really sexy for some reason.
Andy: When I think about it now, it just all makes sense to me that we chose that name.
Your first album, Cemetery Trails, was produced by Greg Cartwright, he is known for producing The Detroit Cobras, The Deadly Snakes, etc.
Andy: Well, he is more known for his own music, The Compulsive Gamblers and Reigning Sound.
How did that situation come about, having him produce your album?
Andy: Kevin, who runs Dusty Medical Records, he knew Greg. I'd see Greg and shows and what not, but I had never talked to him. But I guess Kevin knew him pretty well and just asked him to come up and record it. He stayed up here for a week and then played a solo acoustic show at Circle A and we did a radio show for WSME. Zach stayed up all night before the show. He couldn't sleep that night.
Why not?
Zach: Cause I'm an idiot.
Andy: I remember that, we were all waiting for you. We never play shows early in the morning, and we were like, "Where's Zach?" It turns out he spent the whole night down on the river drinking with some bros. But we won't go in to that.
So your second record, Crooked Lake, your recorded that up north in a cabin. You guys never planned on releasing that did you?
Andy: That wasn't the intentions.
Zach: We all just wanted to go up north and have fun.
Andy: After did the first record, we were all revved up and because of the number of people we have writing songs we had an album worth of material that we hadn't recorded yet. While doing Cemetery Trails, you learn a little bit and we were just eager to try it again. We recorded it so close after the first one. That's always been a problem for us, that we have a backlog of songs.
What's this third record?
Andy: That's just getting rid of the backlog of songs. We're going to start fresh! The first three were definitely like a trilogy for me.
You guys started off in basements around Riverwest.
Zach: The last show we did was in a basement.
You guys are still in basements?
Andy: That's just the way Milwaukee does it. It's a lot of fun. It's kind of like being in prison, surrounded by cinder block walls; very Jailhouse rock.
Zach: For me it's always been the most comfortable.
When you guys were on tour, were you still in basements or did you play actual venues?
Andy: Small bars and a few basements.
You prefer Milwaukee basements?
Andy: Milwaukee basements are the finest. They smell great. It's always great company.
Zach: It's brings out something in people that you can't get at a bar. No one is afraid to do anything in a basement. Well it's cool here, cause any time during the week there is a basement show, thanks to all the people who book them. But you go other places and that's just not how it works. Half of the country doesn't even have basements. But they get nice weather though so it's a trade off.
Not too many people are aware of the Milwaukee music scene. The bands I can name off of the top of my head, such as the Violent Femmes and The Promise ring, are native Milwaukee bands. How would you describe the local music scene?
- Zach: It's like ever changing. It's a riot, no matter what. There is always tons of bands. It seems like the bands from Milwaukee have a common sense about them.
Andy: There is a lot of freedom. You don't have to be good at what your doing. Technically, no one cares at all. It's just the spirit in which you do it in. Everyone is in tons of bands to kill time.
Zach: It reminds me of the south, like Chattanooga.
Andy: Everyone is just in a lot of different bands. Some people wonder how you can be in one band and be able to focus on another. But it's like, how do you go home and listen to a Lightin' Hopkins and than a Devo record? How could you not want to play all these different kinds of music? There is some you are better at playing and I can really only write a certain kind of music.
What other Milwaukee bands do you guys suggest to?
Zach: There is a lot of them. I'd say The Kind Of Jazz Music That Kills.
Andy: A band that means a lot to me is Holy Shit, just cause the guys are rad and I love their take on punk rock.
Zach: Also, Head on Electric.
You guys don't play a lot of shows, what's up with that?
Andy: We just go through periods, just like any other band where we will play a lot of shows at once. I guess the last 2 years of the band we did tours, than we would record, but now we are entering a new phase and there will be a lot more shows
Zach: We have a new drummer now.
Andy: When it averages out, we haven't played that many shows in the last year. But we've been busy, we made three records. But I agree, it's time to play more shows. So that's what we are going to do, tour a lot.
Zach: We have a show at Liquor Sweets.
Is that in a basement?
Andy: Ha, no, it's a bar, on Oklahoma.
Zach: It's actually an MS benefit. We're also playing the Cactus Club August 9th with Call Me Lightning. There a huge band in Milwaukee.
So other than the shows in Milwaukee, you guys got plans for a coast to coast tour?
Andy: Yeah, we're hoping to tour the states. We also have some insane plans to go to Europe.
How are things with Dusty Medical records?
Andy: Dusty Medical kicks ass.
Kevin, who runs Dusty Medical, was a big fan of yours before he took you guys on.
Andy: Oh yea, he's definitely been an awesome person. The first year it was just for fun, but he pushed us to go further. Dusty Medical just kicks ass. It's one of those things that I'm just really proud of. To be able to put out three records on an independent label, it's just so cool. He helps make the records, puts them out, he's just really supportive and a really awesome guy.
You can pick up both of their albums Cemetery Trails & Crooked Lake via Itunes or Dusty Medical's website (where you can check out other local Milwaukee bands). Their third record, self titled, will drop this fall. You can also stream some of their music from their Myspace.