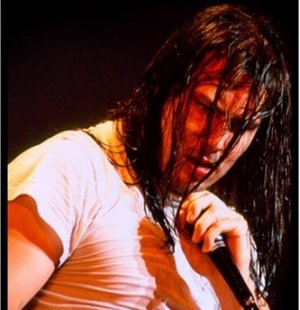 Andrew W.K. has announced a string of Canadian dates in June as well as new solo piano-based album, 55 Cadillac, which is scheduled for release later this summer. Tonight we're pleased to introduce an interview between Andrew and our own Zack Shaprio where Andrew talks about the unique approach he took for recording the new album as well as other television and music endeavors he's been planning.
If you don't want to wait until the summer to hear new material, feel free to head to various online retailers where you can download his new mixtape, Damn.
Zack Shapiro: It's been three years since Close Calls With Brick Walls and what seems like forever since I Get Wet and The Wolf. How does 55 Cadillac differ from those three records?
Andrew W.K.: The main difference is that 55 Cadillac is a solo piano album of songs that were made up on the spot. The other two albums were made with lots of different vocal tracks and instrumental sounds and this is just solo piano stuff. I tried to keep 55 Cadillac as spontaneous as possible.
Was 55 Cadillac difficult to record?
I thought of it as being very easy, like here I don't have to play the song the right way, there is no right way. The song doesn't exist! In a different way making up a song as you go along has its own challenges, There's really no right or wrong way to play a song at that point. The challenge is to hold it up. It's the consciousness that starts to emerge and I hope when people start to listen to this album, that I don't know what's coming next as much as they do.
When I listen back it was like listening to myself play songs for the first time, I didn't know what i played.
I feel very happy that it was recorded. I feel satisfied with never being fully satisfied with anything you do. You always try to reach that feeling.
Is the Canadian tour The 55 Cadillac Tour or will fans get to hear a good bit of the Andrew W.K. library?
It's gong to be a very good combination of the spirit of spontaneity that's found on 55 Cadillac. The material will be much more than songs from the album, it won't be out yet in June but what people will get is that solo experience with songs that they're familiar with. I do make up quite a bunch at almost all of the shows. I'm working on a tour specifically for 55 Cadillac in September which will be a different performance. I'm just going to make up new songs on the spot but maybe now that I've grown familiar with some of those tunes, maybe refer to them in some way.
You're doing a 7'' split with Canada's Nardwuar.
He's an incredible man. I'm sure there's a lot of Canadians that read Punknews.org. I may be speaking out of turn or I may be wrong but he may be as big as any Canadian music personality has ever been. He's very passionate about being from Canada and uses that in his performance all the time. It's like working with a very, very advanced performer who can teach any performer something. He's a Canadian legend for me and for Canada. We'll each have two songs per side.
How did you get involved with Cartoon Network and their live-action series Destroy Build Destroy?
I've been working with Cartoon Network on developing a show for quite sometime - since 2007. It was a very exciting and very educational journey to take and eventually those discussions led to Destroy Build Destroy. Basically the show is two teams of three people, boys and girls, ages 12-15, and they compete to blow stuff up and then build things using the wreckage and then blow it up again. I really mean blowing it up. We're talkin' about military tanks running over semi-trucks and SUVs and blowing up boats with really significant bazookas and stuff. For me being around the explosions was very powerful. I hope people find it fun. It's a pretty intense and crazy show.
Are there any plans to come to the US to tour?
The tour that we're looking at is quite intense and quite special. The Canadian tour will be followed by US dates. I just started a record label called Skyscraper Music Maker so there will be lots of new music coming out of that. I just played a show in New York last night. It was a release party for a mixtape that I just released on my record label.
Will we still see your face at random times on various VH1 shows?
I just filmed bunch of new stuff with them and I will still be appearing on Fox News commentating. yeah, I'll be on TV as much as possible.
Andrew W.K.'s Canadian Tour begins on June 23 in Vancouver at Neptune Records and will run through August 1st.