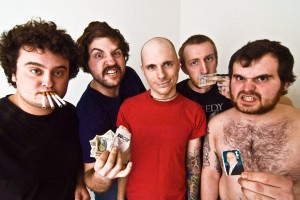 Rochester, NY's Sakes Alive!! are currently working on their new 7" Act II for Cavity Records. It's the second in a three part series being released on different labels (the first part, Act I, arrived last year on Barrett). The band took a video camera into their makeshift studio and documented their recording progress. Over the next several weeks we'll be bringing you some highlights from the sessions. Here's what they had to say about this clip:

"This episode gives a small glimpse into the struggles and annoyances (more than anything) that the band has with trying to handle the recording process themselves, outside of a studio situation."
Click Read More to watch the first Episode.