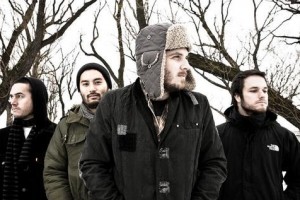 According to Thrice's official Twitter and blog, the band has wrapped up recording and will begin mixing the album this week. The band is working with mixer Dave Schiffman.
The band also commented on release plans, saying:

All the tracking is finished for the new record. Though it still needs to be mixed and mastered. To everyone who is hoping for it to come out next month now, I'm sorry to disappoint you, but there is a lengthy process still ahead with production, sending out copies to press, shipping, etc. You have to send to press about 3 months early because that is how early they put together the issues. Sooo, the record will be out in early Octoberish.
Vagrant Records has also announced the title for the record, Beggars, and frontman Dustin Kensrue, commented, :

I think we are at most times deluded in thinking that we are totally responsible for our circumstances, but in the end almost everything is beyond our control to a high degree and we can't even be sure we will wake up tomorrow. Whether you believe that God created you for a purpose, or that the world is governed by blind chance, everything in life is a gift at its core; we are beggars all.
The record follows their four EP cycle, The Alchemy Index: Volumes I & II: Fire & Water and The Alchemy Index: Volumes III & IV: Air & Earth.