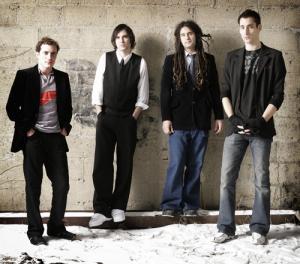 In a new interview, Moneen revealed the title and release date for their upcoming album. The record is titled The World I Want to Leave Behind and is due out September 15, 2009.
The band commented on the sound and progress of the record:

I think we're over the whole "tech" rock thing. We have nothing to prove. Now it comes down to writing a good, simple song. Still, we have trouble doing that sometimes. I don't know how it happens, but the simplest song can turn into crazyness once we start working on it.

It is in the final mastering stage. We decided on the track listing (which wasn't easy), and now it's VERY nearly done. The cover art is finished, and I can't wait to hold it in my hands, and I REALLY can't wait for others to hear it.
The band released the Hold That Sound EP this year.