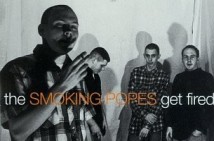 Asian Man Records will be producing some reissues and compilations from the Smoking Popes. According to label boss Mike Park:

Matt Caterer of the Smoking Popes had asked me a few months back about Asian Man working with the Popes and in particular their back catalog. Well, being a huge fan I of course was very excited and so I am here to confirm the following releases to be coming out on Asian Man
First, the label will be compiling the Innoculator, Break Up and other 7-inches on a single CD/vinyl release. The label is also planning a remastered reissue of the band's 1993 Johann's Face album, Get Fired and finally, the band's major label debut Born To Quit will also get the remaster treatment.
The first release will come out in the fall of this year. The band will accompany each release with a record release show in Chicago.