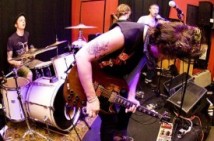 It's been a while since their last Dispatch, but Bridge & Tunnel are back with the second installment. In this episode, the band covers the end of their recent European tour as well as shows stateside since their return.
So I guess I will just pick up from where Pat left off with his dispatch. By the end of our European tour, we played thirty shows in twenty-five days, beginning and ending in Berlin. We played shows in Germany, Austria, the Netherlands, England, Wales, and Scotland. Our friend Jan from Yo-Yo Records in Berlin invited us over and accompanied us everyday. Honestly, I could not have been happier about the way everything turned out, one day way better than the next and my only complaint would be that it ended too soon.
While in Germany, we primarily played at squats. We would generally arrive at around five or six-o'clock, load-in, drink some coffee, and then sit down to eat with the folks from the squat and the other bands playing that night. People there were so welcoming and kind. They are so invested in what they are doing and it showed. I was so grateful that they allowed us to be a part of it. We would often sit around for a while before the shows getting to know one another and hearing about the history of the places we were in.
I can't really express enough how impressed I was with the squats and the folks that operated them. The structures themselves seemed to be these living breathing things that stood for something significant and vital. People were committed to punk culture. They were devoted to maintaining an alternative space for people to express themselves and feel safe. Ideas, political reflection and action were prioritized. It was inspiring and definitely made me take inventory of how we are doing things in our own communities, both good and bad. I felt privileged to be welcomed. This could be me romanticizing the experience, as I tend to do, but I would like to think that there is something to it all.
I was unhappy to leave Jan and for our European tour to end. It was a pleasure and I can't thank everyone that made it possible enough.
We arrived home in New York and worked at our respective day jobs for a few days and then took off again. I think we were home for a little less than nine days. It was certainly a tough adjustment, especially knowing that we were kind of just on a slight break from tour. I never really got settled. I bounced around for a few days catching up with friends, but never really having the time to just sit and relax with them. I gave them the updates and talked about how I was eager for the next leg of our spring touring plans. For the most part, my "hellos" were coupled with my "good-byes."
We packed up and left for Richmond, VA on May 16th. We arrived and John from Mouthbreather explained what Live Action Role Playing (LARPing) is and how he used to be really into it. I think if you listen to the lyrical content on Mouthbreather's upcoming ten-inch, you will realize he probably still is. Playing with Mouthbreather always rules. If you get a chance to see them live, please do yourself a favor and go.
After Richmond, we played at Lunchbox Records in Charlotte and Wonderoot in Atlanta. We have played both of those spaces before and I love them both. To backtrack for a second, I should mention that we had to get our transmition rebuilt in South Carolina. It was the most expensive and traumatic van repair we ever had done. We had to borrow our friend Ryan's car to get to the show in Atlanta while the van got worked on.
The van troubles continued even after the transmition. We ended up having to bring the van into various mechanics throughout the country pretty much daily for another week and a half after that. It was stressful to say the least. Whenever I got behind the wheel, I was convinced that the van was going to die. The problem ended up getting fixed at a Dodge dealership in California for about five percent of what we had already spent trying and failing to find the issue. We really don't know much about cars.
Anyway, let me fill in the blanks between van troubles. We drove to Dallas, Texas from Greenville, South Carolina to begin touring with Propagandhi. The shows were at venues that are larger than we are used to and the crowds were mostly people that had never seen us before. I was pretty nervous a lot of the time. My apprehension would disintegrate when Propagandhi would start playing. Being able to see my favorite band perform every night for eleven shows straight was a treat.
They are so good at what they do and always have been! Their records have been consistently exceptional. Topically, they have never stopped being relevant, self-aware, and insightful. Propagandhi continues to be an inspiration and motivation for me as both a person and a musician. They were humble and welcoming to us. The tour was awesome overall. I would need a lot more time and space to really express all of this and would probably embarrass myself more than I already have.
The leg of the tour with Propagandhi ended in Los Angeles. We had allotted ourselves five shows to get back to New York. We played Salt Lake City, Utah, Denver, Colorado, Lincoln, Nebraska, Chicago, Illinois, and Cleveland, Ohio. On the way home, we were practically playing a time-zone a day. The drives were brutal and we were all drained. The highlight from those five days was probably watching Pat get into a slap boxing match with Paddy from D4 in an alley after the show. It was silly and all in good fun.
We have been in New York for about four days. We leave again tomorrow to play a little more than a week in Eastern Canada. This stop home has been even more of a blur than the last one. It will be nice to relax and write some more songs with everyone this summer. Touring might be my favorite part of playing in a band. These tours were perfect examples of why we love what we are doing. Thanks to everyone that made that possible.
My prepaid time at this internet café seems to be running out, so I will tie this one up. My bandmates would probably be disappointed if I didn't include this one little story…So I was walking down a street in Leeds in the UK looking for a phone card. I had my jeans rolled up and my glasses on. I saw a group of early teenagers gathered on a corner. There were maybe ten of them. As I continued to walk closer to them I felt the side of my face and body all of a sudden soaked. I turned to see a youngster assaulting me with a super-soaker water gun. I stood frozen as the rest of them arrived with their own super-soakers. By the time they were done with me I was completely drenched. When they were finished they called me a geezer! I had never been called a geezer before. I'm twenty-six! Is that a geezer?
Hope you are all well,
Jeff