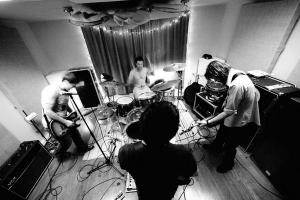 The reunited Far has been hard at work on their comeback album, and the band is attempting to enlist fans to contribute gang vocals to a song they've written for the new record. The band insists that the contributions don't have to be perfect, and
Far first broke up in 1999, a year after the release of what would become an extremely influential record, Water & Solutions. In the meantime, frontman Jonah Mantranga went on to perform music with New End Original, OneLineDrawing and Gratitude, as well as under his given name. Guitarist Shaun Lopez went on to form The Revolution Smile who to date have released four records, the last being Summer Ever in 2006.
Far reunited to tour the UK in 2008 and signed to Vagrant last March.